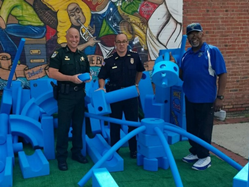 "Everything that Truth for Youth does for children is free," states Mr. Powell "because poverty doesn't discriminate."
PROVIDENCE, R.I. (PRWEB) July 17, 2019
Imagination Playground announced that Reverend John H. Powell has been selected to be the 2019 Summer Block Champion. Block Champions are those inspirational leaders or teams enthusiastically using the Imagination Playground Blue Blocks to engage children in learning and fun. The Block Champion sees the possibility for building towers and trains while building the 21st Century Skills of Communication, Collaboration, Critical Thinking and Creativity. Whether toting the Blocks to an under-served community, using them to bring math curriculum to life, or just celebrating the power of play, Block Champions are nominated by their peers for their positive impact in the lives of children.
For more than 25 years Reverend John H. Powell has volunteered every minute of his spare time to the support and education of underserved youth through his unpaid role as Executive Director for Truth for Youth, a 501c3 organization. Mr. Powell started Truth for Youth in 1993 to address the needs of children and families in Pensacola, Florida. Under John's leadership, Truth for Youth has expanded service to several surrounding counties and continues to evolve as the community needs change. To date the program has impacted more than 80,000 youth and their families.
In her nomination of John H. Powell for Block Champion, community volunteer Dorothy "Dottie" Dubuisson tells us that John "is recognized for his novel approach to esteem building in youth and bringing healthy play to many who would not otherwise have safe play experiences. Whether confronting gang violence, creating neighborhood festivities or adding to community events, Mr. Powell exemplifies the best adult mentoring of children and leadership in community, expends his personal funds in support of Truth for Youth and creates positive role model reward events for children of all ages without regard to race, ethnicity, gender, religion or ability." "Everything that Truth for Youth does for children is free," states Mr. Powell "because poverty doesn't discriminate."
Truth for Youth operates the Imagination Playground Big Blue Blocks at events all over the Pensacola area, and surrounding counties. Whether participating in City or County summer programs, hosting activities in the children's area for city-wide events, or as a component of the Truth for Youth sponsored activities, the Imagination Playground Blue Blocks have been an instant success. "The kids never want to leave." Mr. Powell remarks, "because we only have one set of Blocks, we have to limit the number of children. My dream is to see hundreds of children playing with the Blocks at one time." Reverend Powell loves to see the imagination that is active during play with the Big Blue Blocks, "the Blocks encourage people to play like a child again." Volunteer Dottie also sees the value of "everyone working together, collaboratively. The experience bridges diversity."
"Mr. Powell's use of the Imagination Playground Blocks demonstrates how play is an important asset in a community and can serve to bring people together regardless of their background" said Jim Stallman, CEO of Imagination Playground. "Imagination Playground Blocks are made in the USA but sold all over the world. There are Blue Blocks in over 70 countries. We hope that others are inspired by Rev. Powell's example - both to sustain his 25 year legacy, and to create similar programs in other areas. Play is a great unifier."
Media Opportunities:
Truth for Youth will be operating the Imagination Playground Blue Blocks at the July 19th Gallery Night in Downtown Pensacola 4-9 pm. Contact Dorothy "Dottie" Dubuisson at 904-864-4648 for more information.
About Imagination Playground, LLC
Imagination Playground is a breakthrough play space concept developed to encourage child-directed, creative free play. The kind of play that experts say is critical to children's intellectual, social, physical, and emotional development. Invented by architect and designer David Rockwell and the Rockwell group, Imagination Playground enables children to play, dream, build and explore endless possibilities. Imagination Playground finds its home in daycare centers, kindergartens, elementary schools, children's museums – and science, nature, discovery centers, camps, community centers, children's hospitals, hotels and resorts, public parks and more – in North America and over 70 countries around the world. For more information, visit imaginationplayground.com.
About Truth for Youth
Truth For Youth, Inc., is a 501(c)3 non-profit organization incorporated in the state of Florida, since 1993. It serves as an advocate for the youth of Escambia, Santa Rosa Counties, and the surrounding area. Our mission is to create and provide educational, recreational, cultural, and social programs for youth ages 6-16. Our programs are designed to challenge at-risk youth to engage in wholesome activities by providing healthy and creative opportunities for education, social exchange, and personal development. Our activities promote and encourage academic excellence, moral and civic responsibility, self esteem, positive self image, confidence, pride, discipline, and respect for self and others. Truth for Youth
About Reverend John H. Powell
Rev. Powell is a former Marine and is a partially disabled veteran. In addition to his volunteer efforts, he works full time for the military as a sports coordinator. John's wife Dorothy and three sons have assisted in his work from the beginning