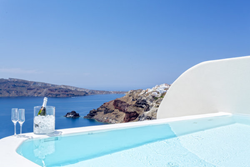 As curators of the most individual, intimate and intense hotel experiences around the world, we are delighted to celebrate these exceptional hotels that showcase our independently minded ethos in such distinct, diverse and delightful ways.
LONDON (PRWEB) December 11, 2018
Small Luxury Hotels of the World™ (SLH) has announced Canaves Oia Suites in Santorini, Greece, as Hotel of the Year at the SLH Awards 2018. A blissful blend of island tradition and architectural inspiration, the hotel has been described as 'very nearly perfect' and is one of seventeen hotels in SLH's 500+ strong portfolio of independently minded hotels that were honoured with top distinctions this year. The awards highlight excellence in everything from dreamy designs and breathtaking suites, embracing social media, the environment and the local community.
Three new accolades were introduced to the SLH Awards 2018 including Dreamiest Design Hotel which was won by Liostasi Hotel & Suites in Greece, Most Independently Minded Experience which was awarded to Orania.Berlin and Best Family-Friendly Hotel which was discerned to Gaya Island Resort in Malaysia.
Many of the categories were voted for exclusively by members of SLH's loyalty programme, INVITED, and luxury travel agents. These included The Sukhothai Shanghai (City Hotel of the Year), Blanket Bay in New Zealand (Country House Hotel of the Year) and Canaves Oia Suites (Resort Hotel of the Year), which was then put forward for the ultimate recognition by SLH's panel of experts – Hotel of the Year.
Meanwhile, Cap Rocat in Mallorca, The Tokyo Station Hotel in Japan and Porto Zante Villas & Spa in Greece were all deemed by SLH guests and agents to have the best spa, restaurant and suites respectively, and Casa Angelina Lifestyle on the Amalfi Coast was voted Most Romantic Retreat.
Member hotels were also invited to submit entries to applaud their own innovation and high levels of service, judged by SLH's panel of experts:

Ka'ana Resort in Belize received the Caring Luxury Award based on its outstanding green credentials, its use of local amenities and its contribution to the local community through the creation of scholarship funds, bathroom rehabilitation projects and an environmental program
Alvaro Herrera Gomez, Front Office Manager at Hacidenda Zorita Wine Hotel & Spa in Spain was awarded the Hotel Hero Award, for demonstrating bravery and dedication to guests during difficult times
Olive Boutique Hotel in Puerto Rico received the Most Instagrammable award based on its beautiful Instagram (@theoliveexperience) shots featuring accentuating blue hues and neutral colours that perfectly communicate the luxury feel of the hotel
Canaves Oia Hotel in Greece was awarded Best Hotel Video for "Canaves Oia —Where Time Stops" showcasing a unique cinematic style and engaging narrative that depicts the hotel as a timeless holiday retreat.
SLH's Mystery Inspectors also had their say based on their experiences whilst staying at each and every one of SLH hotels over the last twelve months, with Hotel Villa Carlotta in Sicily coming out top based on a combination of guest reviews, inspection scores and overall quality rating.
And finally, the annual award to recognise a significant newcomer to the SLH family this year was designated to Domaine Misincu in Corsica. Since opening in July 2017, the hotel has received an unprecedented level of interest, press coverage and reservations.
Jean-Francois Ferret, CEO of Small Luxury Hotels of the World™ said: "As curators of the most individual, intimate and intense hotel experiences around the world, we are delighted to celebrate these exceptional hotels that showcase our independently minded ethos in such distinct, diverse and delightful ways."
The full list of winners and shortlisted finalists is as follows:

Hotel of the Year – Canaves Oia Suites (Greece)
City Hotel of the Year – The Sukhothai Shanghai (China)
Shortlisted Finalists – Le Narcisse Blanc Hôtel & Spa (France); Nimb Hotel (Denmark)
Resort Hotel of the Year – Canaves Oia Suites (Greece)
Shortlisted Finalists – Stein Eriksen Residences (USA); ABBA Resorts Izu (Japan)
Country House Hotel of the Year – Blanket Bay (New Zealand)
Shortlisted Finalists – Les Sources de Caudalie (France); The Fish (UK)
Best Newcomer Hotel Award – Domaine Misincu (France)
Shortlisted Finalists – Cape Fahn (Thailand); The Trident Hotel (Jamaica)
Mystery Inspectors' Excellence Award – Hotel Villa Carlotta (Italy)
Shortlisted Finalists – Sublime Samana Hotel & Residences (Dominican Republic); Hotel Villa Ducale (Italy)
Dreamiest Design Award – Liostasi Hotel & Suites (Greece)
Shortlisted Finalists – Hotel Lilla Roberts (Finland); TwentySeven Hotel (Netherlands)
Hotel Hero Award – Alvaro Herrera Gomez, Hacienda Zorita Wine Hotel & Spa (Spain)
Shortlisted Finalists – Marc Dobbels, Le Barthélemy Hotel & Spa (St Barthélemy)
Caring Luxury Award – Ka'ana Resort (Belize)
Shortlisted Finalists – DasPosthotel (Austria); Akyra Sukhumvit Bangkok (Thailand)
Best Gourmet Experience Award – The Tokyo Station Hotel (Japan)
Shortlisted Finalists – Pädaste Manor (Estonia); The Dylan Amsterdam (Netherlands)
Best Hotel Video – Canaves Oia Hotel (Greece)
Shortlisted Finalists – Keemala (Thailand); Carpe Diem Santorini (Greece)
Most Instagrammable – Olive Boutique Hotel (Puerto Rico)
Shortlisted Finalists – Canaves Oia Hotel (Greece); Keemala (Thailand)
Most A-List Suite Experience – Porto Zante Villas & Spa (Greece)
Shortlisted Finalists – 137 Pillars Suites Bangkok (Thailand); Villa Spalletti Trivelli (Italy)
Most Sensational Spa – Cap Rocat (Spain)
Shortlisted Finalists – Lefay Resort & Spa Lago di Garda (Italy); Esperanza Resort & Spa (Lithuania)
Most Independently Minded Experience – Orania.Berlin (Germany)
Shortlisted Finalist – Minos Beach Art Hotel (Greece)
Most Romantic Retreat – Casa Angelina Lifestyle (Italy)
Shortlisted Finalists – Le Narcisse Blanc Hôtel & Spa (France); Baros Maldives (Maldives)
Most Family-Friendly Hotel – Gaya Island Resort (Malaysia)
Shortlisted Finalist – Nobu Hotel Ibiza Bay (Spain)
For more information or to make a booking visit http://www.slh.com or call 1-800-234-7033.
Editorial Enquiries:
EMEA – PR Manager EMEA: Laura Alix (laura.alix@slh.com)
Americas - PR Manager Americas: Dana O'Malley (dana.omalley@slh.com)
APAC - PR Manager APAC: Juliana Tan (juliana.tan@slh.com)
About Small Luxury Hotels of the World: Small Luxury Hotels of the World™ (SLH) matches independently minded guests with independently spirited hotels. The diverse collection of over 500 hotels in more than 80 countries around the world includes everything from cutting edge design hotels and city centre sanctuaries to historic country mansions and remote private islands – all SLH hotels are consistently different, however, they are all united by the fact that they offer the best locations, highest quality, personalised service and a truly authentic way to discover a destination. Guests can now join INVITED, SLH's refreshed loyalty programme, to experience Small Luxuries across the collection. Reservations for any SLH hotel can be made online at http://www.slh.com or via the iPhone and Android apps, by contacting a travel agent or calling a Small Luxury Hotels of the World reservations office; click here to view a listing by country.
Hotel of the Year/Resort Hotel of The Year - Canaves Oia Suites, Oia, Greece
Elegant suites carved into the cliffs in spellbinding Santorini
On an island with as glowing a reputation as Santorini, it takes something special to stand out. Canaves Oia Suites does just that. The pristine white suites set into dark volcanic rocks are a neck ahead when it comes to indulgence thanks to their glittering pools (choose from dinky plunge pools to private infinity pools) and individual terraces. Enveloped by the eternal blue sky and the infinite blue sea, the Panorama Balcony invites romantic couples to the ultimate stellar dining experience with exceptional gourmet creations championing the vibrant produce of the Aegan. Guests can enjoy being preened and pampered as they overlook stunning sea vistas at the luxury spa which combines ancient holistic principles with a range of cutting-edge therapies. The hotel also includes a luxury yacht for guests to explore the coastline and an exceptional wine cellar hosting ceremonial wine tastings.
City Hotel of the Year Award – The Sukhothai Shanghai, Shanghai, China
Sophisticated design and contemporary luxury in the heart of cosmopolitan Shanghai
This modern luxury hotel matches an immersive, genuine hospitality with a contemporary setting. Seamlessly connected to the HKRI retail mall, it's a short stroll from Nanjing Road (West) – a favourite shopping destination in this vibrant, international city. Tasteful rooms and suites are fitted with walls made of a soundproof material, which also purifies the air. Floor-to-ceiling windows look out onto sweeping Shanghai vistas while natural furnishings create a sense of calm and warmth. Guests can start the day with a dip in the indoor heated pool, stretch in the yoga suite before freshening up in the sauna. The hotel's spa specialises in tailored wellness journeys of treatments and exercises whereas The ZUK Bar offers innovative, artisanal cocktails by world-class mixologist Vincenzo Pagliara.
Country House Hotel of the Year – Blanket Bay, Queenstown, New Zealand
Boutique Hotel overlooking Lake Wakatipu on New Zealand's South Island
With the Humboldt Mountains behind, their snow-dusted peaks reflected in Lake Wakatipu in front, Blanket Bay boutique hotel is wrapped up in superb isolation. Yet this captivating hideaway is a short drive from the adrenalin hub of Queenstown – and well placed for exploring the Southern Lakes and
Fjordland. Blanket Bay's rustic lodge styling, warm colours and homey furnishings create a snug contrast to the majestic Alpine setting and wild surrounding. Guests can enjoy the heated outdoor lap pool and luxury spa with lake-view hot tubs or plan a private heli-picnic to a remote fjord or mountaintop. The main dining and private dining rooms feature views across the lake and large log burning stone fireplaces perfect to snuggle up in front of.
Best Newcomer Hotel Award – Domaine Misincu, Cap Corse, France
Eco-luxury escape in gorgeous grounds on the northern shores of Corsica
At the 'wild' tip of the island, Cap Corse, Domaine Misincu is a seashore hideaway with a river running through it – where outdoor yoga and Pilates take place on the banks. With Zen-like designs that soothe guests from the moment they arrive, the rooms feature warm shades and materials with exceptional views of the sea. The garden spa includes a Turkish bath and an earthy pink pool with treatment spots inside and out. The fine dining bistro and relaxed beach restaurant both use locally sourced Corsican ingredients such as charcuterie, citrus fruit, cheese and fish. Guests can explore the hiking paths curling away from the hotel inland past olive trees and beehives or take part in a range of watersport activities including sailing, diving and waterskiing.
Mystery Inspector's Excellence Award – Hotel Villa Carlotta, Taormina, Italy
A panoramically positioned retreat just a stroll from the centre of Taormina
A heavenly retreat in the most panoramic area of Taormina with exemplary service, Hotel Villa Carlotta was built in 1860 for a local aristocratic family. With magnificent views across the sea and of Mount Etna, enchanting gardens, an outdoor pool and numerous soft seating and sun loungers nestled among Roman ruins and lush vegetation, this coastal idyll promises peace and exclusivity. Recently renovated, guests can opt to stay in Hotel Villa Carlotta's two-storey Tower Suite with floor-to-ceiling Arab style windows overlooking the sea. Located in the panoramic roof top terrace, the restaurant offers Sicilian and Italian cuisine, prepared with the best organic local products. The Maître patissier Salvatore makes delicious Sicilian desserts including classic cannoli or the famous cassata Siciliana.
Dreamiest Design Award – Liostasi Hotel & Suites, Ios, Greece
Sleek, boutique hotel with breathtaking views of the Aegean
At Liostasi Hotel & suites, guests are welcome to step into a world of minimalist grace where the purity of white harmoniously blends with the modern comforts and conveniences. Drenched by sunlight, the suites feature a chic choreography of beige, white and grey to add a feeling of blissfulness to the atmosphere allowing guests to relax in a haven of contemporary comfort. The water canal surrounding the main pool of the hotel has the Homer's Odyssey Prologue written in Ancient Greek and English. Particularly impressive during the evening hours where the light reflects inside the letters. The Sunset Lounge has been inspired by the shape of an eye and the privileged location of it offers monodical moments of leisure. The space surrounding the Sunset Lounge has been covered with hundreds of white pebbles and a great variety of cactus, creating the perfect contrast with the floral design of the pillow covers and sofas. The resort also houses "Anatasis": the emblematic red 7m aluminium sculpture by Kostis Georgiou, which is very characteristic of the artist and represents dancers.
Caring Luxury Award – Ka'ana Resort, San Ignacio, Belize
Nestled in a picturesque valley surrounded by the Maya Mountains
An exclusive outpost set in the Maya Mountains in Western Belize, Ka'ana Resort is the perfect base from which to discover the numerous attractions of the spectacular Cayo district. Guests can expect accommodation in pretty casitas or ultra-luxurious private pool villas, gourmet cuisine, a relaxing spa, a pool and the chance to experience the culture, history, and geography of this exhilarating part of the world. The resort's green credentials include using organic fertilizer on its grounds, using eco-friendly laundry detergent, providing soaps and cleansers to guests that are entirely organic or using empty egg shells for seedling in the organic garden. All the food on the resort is transported in biodegradable containers and bags made out of corn starch and all woodwork at Ka'ana was built within 25 miles from the resort, using sustainable Belizean hardwoods. The resort is also committed to helping Mary Open Doors, a resource center and temporary shelter for battered children and women, by using different fundraising initiatives aimed at giving the women and children it supports safe shelter and domestic education.
Hotel Hero Award – Hacienda Zorita Wine & Hotel & Spa, Salamanca, Spain
Working as a front manager at Hacienda Zorita Wine Hotel & Spa since 2014, Alvaro Herrera Gomez has always shown great dedication and attention to detail in his job. When an unfortunate tragedy occurred and one of the guests unfortunately passed away at the hotel, Alvaro was the first to provide CPR and assisted the husband with the formalities and bureaucracy required for these situations. He also arranged for the family to travel from UK to Spain, went to pick them up personally from Salamanca station and granted them with complimentary nights. He also ensured that their car, luggage and other belongings were kept safe.
Best Gourmet Experience Award – The Tokyo Station Hotel, Tokyo, Japan
Vintage elegance in the hip heart of Tokyo
The Tokyo Station Hotel has been part of the city skyline for over 100 years. Today, the hotel blends Omotenashi – the time-honoured spirit of Japanese hospitality – with 21st century luxury. And with no less than ten eateries on-site serving eclectic cuisine from fresh sushi, yakitori chicken to Chinese and Italian fare, the hotel promises an indulgent gourmet escape. The Sushi Aoyagi eatery serves superb seafood including the finest bream in Japan whereas the Shichi Jyu Ni Kou restaurant offers authentic Japanese Kaiseki cuisine based on the philosophy of using the finest seasonal ingredients flown from all over Japan. Featuring the finest in French cuisine, Blanc Rouge restaurant provides a menu of favourite French dishes with modern twists and a wine cellar housing 1,000 bottles of selected wines from around the globe and from the winery regions of Eastern Japan. Guests can also take-home mementoes of their stay in the shape of authentic Japanese sweets from Toraya – makers of confectionary for over 400 years.
Best Hotel Video – Canaves Oia Hotel, Oia, Greece Canaves Oia, a five-star resort in Santorini, Greece, has long excelled in the hospitality industry for its breathtaking views, white washed architecture, modern furnishings, impeccable amenities and first-class services. The multi-awarded property is expanding on its legacy of luxury with the debut of its official destination video: Canaves Oia —Where Time Stops. Brought to life by award-winning Director Mike Bekos, the video showcases a unique cinematic style and engaging narrative that depicts Canaves Oia as a timeless holiday retreat. The film showcases the staff, the buildings, the stories, the sounds and energy behind the hotel using artful storytelling techniques and creating the desire to explore the hotel first-hand.
Most Instagrammable – Olive Boutique Hotel, San Juan, Puerto Rico
An innovative hotel in the heart of Condado, San Juan.
Influenced by the art and culture of the Mediterranean, Olive Boutique Hotel is a result of the owner's travels throughout Southern Europe. With an emphasis on the work of artisans and artists from Provence and Tuscany, the four floors of the hotel are decorated to reflect France , Spain, Italy and Morocco. The hotels Instagram channel reflects this perfectly, using different colour schemes across the grid. From the blue hues reflecting winter time in the tropics to the neutral tones highlighting the Mediterranean feel of the hotel and stylish interiors.
The hotels following organically increased by 42% in just 2 months during the summer season after re-imagining the content across the channel, shooting new imagery and working with a number of influencers to create content at the hotel. They took part in a number of individual influencer trips as well as a group trip with top influencers in conjunction with the Puerto Rico tourist board. In addition, they created an Instagram competition giving followers the chance to win a romantic getaway at the hotel with all the trimmings. The competition was creative in its implementation and generated a large amount of interest, gaining the hotel nearly 1,000 followers and generating $25,000 in sales.
Most A-List Suite Experience – Porto Zante Villas & Spa, Tragaki, Greece
An award-winning beachfront villa resort on the beautiful island of Zakynthos
Standing majestically on a private sandy beach of a secluded bay, on the island of Zakynthos, just west of Greece's mainland and famous for its turquoise waters and Venetian villages, Porto Zante Villas & Spa is a boutique luxury hotel comprising world class luxury villas on the beach, all with private pools, exquisite Greek & Mediterranean cuisine at the Club House Restaurant, a luxury Asian Fusion Restaurant offering delicious fresh Sushi, Sashimi and Thai options, a fabulous waterfront Spa, 24-hour five-star hotel services, and an array of unique activities & experiences for families and couples alike. The luxury villas at Porto Zante are decorated and furnished with selected pieces of Armani Casa & Gervasoni, paintings of prominent Greek artists and are equipped with some of the best exclusive amenities including Bang & Olufsen Entertainment systems, Christofle Paris cutlery & glasses, Bernardaud design porcelain & BVLGARI guest amenities.
Most Sensational Spa – Cap Rocat, Mallorca, Spain
An historic gem by the sea, minutes from the centre of Palma
A superb refurbishment of an impressive 19th-century fortress has resulted in a captivating and singular, adults-only boutique hotel overlooking the Bay of Palma. Set in 88 acres and stretching along the coastline for two kilometres, Cap Rocat Mallorca is a spectacular property providing a collection of stunning rooms and suites, a selection of magical dining venues and a private rock cliff beach with direct access to the sea. The Spa has been carved on the depths of the fortress with a dramatic saltwater swimming pool, sunk 12m below ground level – yet wonderfully bright. A wide conservatory-style glass ceiling allows the brilliant Mallorcan sunshine to flood the space by day, while by night, the clear star-filled skies will create a mesmerizing place to swim. It also features a superb hammam and provides wellness treatments including a wide selection of Ayurvedic massages based on a 5,000 year- old system of natural healing that has its origins in the Vedic culture of India and anti-ageing facial treatments using bamboo, rice or almond.
Most Independently Minded Hotel – Orania.Berlin, Berlin, Germany
A jazz-age landmark in Berlin's cultural heart, reinvented for a new era
The story of Orania.Berlin starts in 1913, when this stately art deco building on buzzing Oranienplatz opened its doors. The Oranienpalast Café became a local legend, attracting the Berlin cognoscenti for good food, good music and captivating cabaret. Today, the Orania boutique hotel resurrects this grand tradition, immersing guests in the endlessly inventive cultural life of one of Europe's most creative cities. Guests are invited to mingle in the hotel's soaring lobby with its Steinway grand piano atop a corner stage for live jazz, classical and electronica performances directed by the internationally acclaimed Pianist Julien Quentin. Upstairs in the literary salon, panoramic views of Berlin's skyline provide the perfect backdrop for record releases and film screenings. Guests also receive complimentary tickets for the curated literary evenings, poetry slams and DJ sets. Rooms blend the ultimate in contemporary comfort and casual elegance with warm lights and subtle oriental influences including elephant-themed headboards and carpets handmade in Iran. The menu at Orania follows the rule of three: many dishes are centred on a trio of top-quality ingredients, exquisitely prepared by Michelin star chef Philipp Vogel.
Most Romantic Retreat – Casa Angelina Lifestyle, Praiano, Italy
Understated luxury style and spellbinding views at this Amalfi Coast escape
With a dreamy cliff-side setting and pared-back, sophisticated style, Casa Angelina is the ultimate romantic getaway for couples. This adult-only hotel includes rooms with clean lines, contemporary furnishings and lashings of white that underscore the rich tones of nature's palette as visible from the sea-view windows and terraces. The gourmet restaurant Un Piano Nel Cielo which means "a floor in the sky" provides knockout sea, sky and costal views as well as drooled-over Italian specialities and citrus-based cocktails from the Amalfi Coast. The beach can be accessed via a glass lift and flight of steps, where there are deck chairs and beach umbrellas for hotel guests. A bespoke "proposal concierge" is also available to arrange personalised proposal experiences, from a romantic picnic for two under the stars to a sunset boat tour with a swim at the idyllic Li Galli islands. The hotel's outdoor pool is encircled by lemon trees, baths are decorated with red rose petals and there are plenty of candlelit nooks throughout the property perfect for romancing.
Most Family-Friendly Hotel – Gaya Island Resort, Borneo, Malaysia
Situated on Pulau Gaya, part of a natural marine conservation area
Fringed by a golden beach and backed by lush rainforest, Gaya Island Resort is a welcoming and romantic retreat set on an exotic island in the midst of the South China Sea. Surrounded by a wealth of coral reefs for diving, indigenous flora and fauna for guided nature walks, and with an award-winning spa in a unique mangrove setting, four restaurants, and a lounge bar overlooking the pool, it has a real back-to-nature appeal. The resort also includes a kids' club and wading pool, and plenty of activities to keep children entertained such as arts and crafts, cooking classes, learning local dances and kayaking. Guided snorkelling trips along the house reef are available for both adults and children. Families can also visit a water village or go on a guided nature walk into the jungle to see monkeys, wild boar and a wide variety of birds.