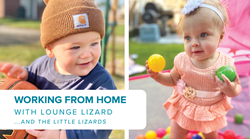 Kaliana walked for the first time when I typically would have been driving to work. I am ecstatic I didn't miss this incredible milestone.
NEW YORK (PRWEB) November 02, 2020
Like so many companies, Lounge Lizard Worldwide, Inc., the Best of Breed Web Design & Digital Marketing firm, went remote when the unforeseen pandemic changed the way we interact with each other and the world. Very quickly they began to see a dramatic and positive shift in their business and their team dynamics.
Not only did business explode as companies large and small began to strategize on new ways to reach customers, but the organization itself was evolving. Lounge Lizard's leadership team quickly recognized that the entire organization had higher productivity and working from home created a better work life balance for staff members and their families.
Now employees could have the flexibility to meet both work and personal commitments with one not detracting from the other. In this new shared dynamic, Sarah Rose, Digital Marketing Specialist, now provides care for her grandmother while working from home and is better able to manage her time while meeting both commitments.
Talking with Sarah, she shared "When COVID-19 hit, we knew it would be safer for my grandmother to stay with us rather than in her apartment at her retirement community. Working from home has made accommodating her possible, and most importantly, has given us more precious time together for which we are both eternally grateful."
Similarly, Lounge Lizard was having a bit of a baby boom before the pandemic with Kristin Lehmann, Sr. Project Manager, welcoming baby, Troy, and LauraBeth Dintrone, Sr. Digital Marketing Manager, welcoming baby Kaliana. By shifting to a home-based work environment, these new mothers have been able to remain at full capacity and experience some of the first-time achievements often missed by working parents.
"Kaliana walked for the first time when I typically would have been driving to work. I am ecstatic I didn't miss this incredible milestone," said LauraBeth. Further echoing similar sentiments, Kristin noted that "Troy has had so many firsts in the past 6 months from learning to walk, to saying his first words and trying new foods. Being present for these moments has been truly priceless."
This added level of connection is being felt with clients as well. Conversations and discussions may take place virtually, but there seems to be an added level of connection for everyone personally. LauraBeth noted that "When you are on the phone with colleagues and clients and hear children playing or dogs barking, it humanizes the process and lends a bit of humor."
This translates to the work where personal connection is vitally important and where the goal is to absorb and relate the client's persona and essence through design and presentation. The connectedness of everyone experiencing the same new reality quickly creates a team atmosphere regardless of physical location.
The web design and digital marketing field is one that thrives in an environment of creativity, growth, and fast-paced initiatives. With many businesses experiencing accelerated change and evolution, Lounge Lizard has been reassured that their staff and leadership team not only welcome change, but fully embrace it as new and exciting opportunities emerge.
Contact Lounge Lizard today for innovative and crisp digital marketing, ecommerce, and website development.
Lounge Lizard Worldwide, Inc.
1-888-444-0110
info@loungelizard.com