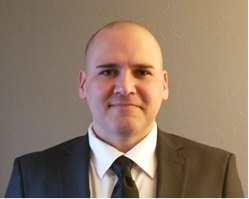 I'm grateful to be back home after all these years and working with the SprayWorks team.
CANTON, Ohio (PRWEB) November 11, 2020
Air Force Veteran, Jeremy Davidson, Joins SprayWorks
SprayWorks Equipment Group is proud to announce, Jeremy Davidson as the new Head of Production. Jeremy holds a multi-faceted role, working with the rig build team and handling the manufacturing of SprayWorks patented equipment. Additionally, he is leading efforts to integrate technology and software into daily functions to help enhance efficiency and speed.
November 11 is Veterans Day and SprayWorks is proud to honor our nation's heroes. Jeremy joins the SprayWorks team from United States Air Force where he worked for 20 years in the Nuclear Weapons Enterprise, Sustainment of Standoff Weapons Systems and Intercontinental Ballistic Missiles. He also carries a B.A.S in Computer Science and an A.S. as an Electronics Technician. Jeremy brings a strong background in Production Management, Software Engineering, Data Analysis, Electronic Systems and Quality Assurance.
"I'm grateful to be back home after all these years and working with the SprayWorks team. I'm also excited to bring the new capability of striking heavily defended adversary targets with Standoff Weapons… should that be needed!", Jeremy jokes. Jeremy is a son of the Owners, Jim and Debbie Davidson, and grew up in Northeast Ohio.
Owner Jim Davidson stated, "For 20 years Jeremy has been working with one of the finest organizations in the world and now he is bringing that knowledge, expertise and experience to us. While we don't foresee a need to employ nuclear weapons, we do have a critical need for his understanding of production management and quality assurance."
About SprayWorks Equipment Group
SprayWorks Equipment Group is a spray foam and polyurea company; supplying equipment, training, material, mobile rigs, and parts – and a distributor for PMC, Graco, and Gusmer equipment. With nearly 100 years of combined experience, SprayWorks has knowledge in commercial and residential buildings, bridges, and infrastructure. SprayWorks provides training and education for new contractors and equipment operators; open cell, closed cell, polyurea & coating applications for interior & exterior building envelope design, waterproofing, below grade, bridge deck, barge, secondary containment all types of roofs and structures. For more information, visit https://SprayWorksEquipment.com Call 330-587-4141.