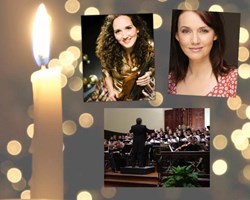 I have worked with Jenny before both with the National Symphony and as a soloist and I can tell you that it is always fun and exciting for both the performers and the audience. She is an absolutely first-rate player! -J.Ernest Green
Annapolis, MD (PRWEB) December 11, 2013
The Annapolis Chorale's annual holiday concert, " A Celebration of Christmas," on Friday, December 13, has become the must see holiday concert in Annapolis. This year, a Grammy Award nominee and a former member of the group Celtic Woman join Maestro J. Ernest Green and the Chorale to ring in the season. Due to high ticket demand, Live Arts Maryland has added another concert to the holiday lineup featuring both special guests on December 14 at St. Anne's Church.
Violinist Jenny Oaks Baker has a worldwide following and fills stadiums with fans. This Grammy Award nominee trained in violin performance at Philadelphia's Curtis Institute of Music and the Julliard School. She has performed as a soloist at Carnegie Hall, Lincoln Center, Strathmore Hall, the Library of Congress and as a guest soloist with the Jerusalem Symphony, Pittsburgh Symphony, San Diego Symphony, Utah Symphony, and the Mormon Tabernacle Choir. She also spent several years as first violinist in the National Symphony Orchestra.
Ms. Baker has collaborated with some of music's biggest names, including Gladys Knight, Kurt Bestor, Marvin Hamlisch, and even the former Secretary of State Condoleezza Rice. Since 1998, she has released eleven albums that have sold over 250,000 copies and made Billboard charts, including the #1 spot on the Top Classical Albums chart. Her album "Wish Upon a Star" earned a Best Pop Instrumental Album nomination at the 54th GRAMMY Awards. Mr. Green recently said "I have worked with Jenny before both with the National Symphony and as a soloist and I can tell you that it is always fun and exciting for both the performers and the audience. She is an absolutely first-rate player!"
Anyone who watches public television has probably seen a performance by the group Celtic Woman. This supergroup of women singers from Ireland has taken the world by storm with its beautiful Celtic-flavored mix of traditional music and pop standards. One of the standout voices of the group was Alex Sharpe, who was a member from 2008 to 2010. A Dublin native, she began her career there as Dorothy in "The Wizard of Oz" at the Olympia Theatre. Her love of musical theatre became a career, playing such roles as Janet in "The Rocky Horror Picture Show," Young Sally in "Follies in Concert," Jenny in "Aspects of Love" and Mila in "Aloha Kamano" by Sean Purcell. Her big break came when the Cameron Mackintosh Company asked her to play Éponine in "Les Misérables" in England and Ireland and for a concert tour of the show. Ms. Sharpe also created the role of Bernadette in the Andrew Lloyd Webber/Ben Elton Musical "The Beautiful Game.""Alex not only has a beautiful voice but has a wonderful way of connecting with the audience. I know our audiences are going to love having her and Jenny with us!" says Mr. Green.
As a solo artist with a beautiful voice, Ms. Sharpe appeared at a concert for the Princes Trust at the Mayflower Theatre in England and has sung with the Icelandic Royal Philharmonic Orchestra, The Danish National Symphony and the RTÉ Concert Orchestra. In 2006, she traveled to Chicago to launch the musical "The Pirate Queen" as principal female.
Information on all holiday concerts and ticketing is available at http://www.liveartsmaryland.org or by calling 410-263-1906
###