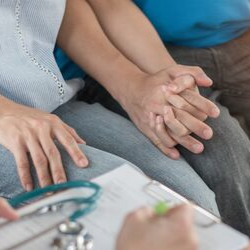 "When women and couples struggling to conceive another child feel there is a problem, we as fertility specialists need to address those concerns to reduce stress, shatter myths, and direct them quickly toward evidence-based treatment."
ORLANDO, Fla. (PRWEB) September 16, 2019
The inability to become pregnant following the conception of one or more biological children is rarely discussed in the fertility-care world. Yet-this issue is remarkably common. An analysis of worldwide health surveys shows that while women aged 20-44 years suffer from primary infertility at an incidence rate of 1.9 percent, the rate of secondary infertility was 10.5 percent.[1] Dr. Mark Trolice, Director of Fertility CARE: The IVF Center, notes that the relative silence surrounding secondary infertility increases patients' difficulty in dealing with the problem.
In women, frequently encountered causes of secondary infertility include damage to the fallopian tubes due to ectopic pregnancies; complications stemming from prior pregnancies, such as a C-section; decreased embryo implantation caused by fibroids; and increased maternal age with the consequent lowering of egg quality and quantity. In the male partner, causes of infertility can include increased age, weight gain, excessive smoking and drinking, the use of certain medications and impaired sperm production and delivery.[2]
One reason secondary infertility is not more widely discussed, suggests Dr. Trolice, is that women and couples dealing with it are hesitant to raise the subject when so many others are struggling to become pregnant for the first time and for fear of being viewed as ungrateful for at least having one child. Some recent celebrity announcements, however have helped generate both public attention to, and sympathy for, those struggling with the problem. In April, for example, TODAY Show meteorologist and co-host Dylan Dreyer spoke on the air about the challenges she faced as a 37-year-old woman facing ovarian aging, and as someone who had recently suffered a miscarriage, in becoming pregnant with a second child.[3]
Viewer reaction to Dreyer's comments was overwhelmingly supportive and favorable [4], as was reaction to a more recent announcement by 36-year-old actress Anne Hathaway, who revealed on Instagram that she and her husband, following a protracted struggle with secondary infertility, were expecting a second child. While her pregnancy is the happy ending, Hathaway said, "[T]hat's only one part of the story. The steps that lead up to that part of the story are very isolating and full of self-doubt. And I went through that."[5]
"This is a very important message and these celebrities deserve thanks for their candor," said Dr. Trolice. "When women do not feel validated by their concern over secondary infertility—not just by friends and family, but also by their physicians—they feel even more devastated. When women and couples struggling to conceive another child feel there is a problem, we as fertility specialists need to address those concerns to reduce stress, shatter myths, and direct them quickly toward evidence-based treatment."
About Fertility CARE: The IVF Center
Fertility CARE (Center of Assisted Reproduction and Endocrinology): The IVF Center provides patient-centered, evidence-based, and individually customized reproductive care in a comfortable and compassionate setting. This Central Florida IVF clinic is the most successful facility of its kind in the Orlando area, and consistently earns 5-star patient ratings in online reviews. Established in 2003 by founder and director Dr. Mark P. Trolice, it is the only fertility clinic in the country to offer both male and female testing, evaluation, and treatment. Today, the practice encompasses the Center for Male Infertility, headed by a fellowship-trained male reproductive specialist; the Mind/Body Institute, overseen by a licensed clinical reproductive psychologist; and the IVF Laboratory of Central Florida, led by a Board-certified high complexity laboratory director. Fertility CARE - The IVF Center offers a comprehensive range of infertility tests and treatment options as well as genetic testing, egg freezing with fertility preservation, egg donation, embryo cryopreservation, surrogacy and other services. For full details, visit http://TheIVFCenter.com.
About Dr. Mark P. Trolice
Mark P. Trolice, M.D., is the founder and Director of Fertility CARE - The IVF Center. He also serves as Associate Professor of Obstetrics and Gynecology (OB/GYN) at the University of Central Florida College of Medicine in Orlando and Medical Director of the Egg Donor Program at Cryos International, the world's largest sperm donor bank. Dr. Trolice is Board-certified in OB/GYN and reproductive endocrinology and infertility (REI), and he is a Fellow of the American Colleges of Obstetrics and Gynecology (FACOG), Surgeons (FACS), and Endocrinology (FACE). Renowned as Orlando's most successful fertility specialist, Dr. Trolice and his wife battled infertility for over 10 years before adopting their children. This journey gave him unique insights into patients' struggles and is included in his forthcoming book on infertility from Harvard Common Press. Dr. Trolice is a sought-after expert with dozens of broadcast and print appearances in addition to national acclaim as one of America's Top Doctors® and repeat recipient of the American Medical Association's "Physician's Recognition Award". In January 2019, he launched his "Fertility Health" podcast interviewing nationally renowned experts on vital topics in reproductive medicine. Learn why he has earned the trust of patients and physicians alike: http://marktrolicemd.com.
1. Mascarenas, Maya N. et al., "National, Regional, and Global Trends in Infertility Prevalence Since 1990: A Systematic Analysis of 277 Health Surveys," PLoS Medicine, December 18, 2012.
2. Gupta, Shobha, "Struggling to conceive the second time? What you should know about secondary infertility", Indian Express, August 19, 2019.
3. Dreyer, Dylan, "Dylan Dreyer: Why I'm talking about my miscarriage, infertility and IVF", TODAY, April 22, 2019.
4. Juneau, Jen, and DeSantis, Rachel, "Why Dylan Dreyer Feared 'Blowback' Before Revealing Her Struggle with Secondary Infertility," People, May 10, 2019.
5. Lennox, Michael Cidoni, "Anne Hathaway opens up about fertility struggles," AP, July 28. 2019.