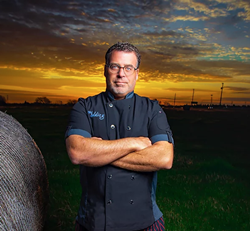 I love traveling and cooking all over the world - the quality and consistency of my chef apparel means everything
FORT LAUDERDALE, Fla. (PRWEB) September 05, 2020
ChefUniforms.com (Chef Uniforms), a leading manufacturer and distributor of high-quality chef and hospitality apparel worldwide is proud to support one of the company's ambassadors, Chef Eddie G., and commend him on the recent launch of his new show, Locavore, now available for streaming on Amazon Prime.
Each month, the series features Chef Eddie G. as he travels around the world, trying local cuisines, drinks and recipes with a farm-to-table focus. Locavore explores diversity and culinary adventures from Mexico to Italy. Throughout the series, Chef Eddie G. can be seen wearing Chef Uniforms' chef apparel including their exclusive pants and coats.
"I love traveling and cooking all over the world, like filming in Tuscany for my Locavore series on Amazon Prime. There are enough unknowns - new kitchens, different heat sources, new ingredients - that the quality and consistency of my chef apparel means everything," boasts Chef Eddie G. "The chef jackets and pants I wear from Chef Uniforms are not only top of the line in design and safety, but they're stylish and comfortable as well."
Chef Eddie G. can be seen wearing the following Chef Uniforms' exclusive coats: NEW PERFORMANCE FABRIC - Men's Snap Closure Chef Coat - Poly/Spandex STRETCH in Black/Pewter, UA CHEF ™ Men's -LIGHTWEIGHT- Short Sleeve Coat with -MESH- Side Panels in Black, Industry Line Chef Men's 3/4 Sleeve Double Breasted Coat with Piping & Contrast Details in Black/Pebble Grey, Men's Double Breasted Long Sleeves Chef Coat - Fabric Covered Buttons and -MESH- Back Panels in Black. For a fun splash of color, Chef Eddie G. is also UA CHEF ™ Men's Chalkboard Baggy Chef Pants.
To learn more about Chef Uniforms and their exclusive apparel, visit http://www.chefuniforms.com. You can view each episode of Chef Eddie G.'s Locavore series on Amazon Prime Video or by visiting https://amzn.to/31ZFF5a.
About ChefUniforms.com
ChefUniforms.com is an apparel brand that manufactures and distributes high quality culinary and hospitality apparel worldwide. Chef Uniforms remains determined in their mission to provide a large selection of innovative high-quality chef apparel at the best prices. Chef Uniforms corporate office is based in Fort Lauderdale, Florida with a distribution center near Atlanta, Georgia. For more information, visit http://www.chefuniforms.com. Follow Chef Uniforms on Facebook, Instagram, and Twitter.