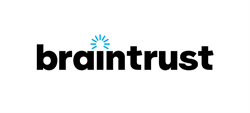 "I struggled as a kid in school because I didn't have access to the resources that I needed to learn that worked best for me" Chef Marc Murphy
NEW YORK (PRWEB) October 06, 2020
Braintrust, an online marketplace that connects certified educators with families for private tutoring, today announced that celebrity chef and Food Network Judge, Marc Murphy, will join the company as an ambassador and advocate for children with learning disabilities. This role will further solidify his commitment to creating better learning outcomes for children who learn differently, an issue that is especially important during the pandemic.
Chef Murphy is a celebrated Chef & television personality, cookbook author and host of the Food 360 podcast with iHeartRadio. Murphy has navigated his life with dyslexia for as long as he can remember, and now, during Dyslexia Awareness Month, he will officially become a Braintrust ambassador.
In his role at Braintrust, Chef Murphy will focus on advocacy, outreach, fundraising events, and philanthropy, including work with the Braintrust Foundation, a nonprofit arm of Braintrust dedicated to creating better learning opportunities for the 1-in-5 underserved children with a learning disability.
Dyslexia Awareness Month, which occurs from October 1st through October 31st, is a time to come together and raise the profile of this learning challenge, share resources and victories about overcoming language obstacles.
"I struggled as a kid in school because I didn't have access to the resources that I needed to learn that worked best for me," says Chef Marc Murphy. "Learning should be explorative and joyful--kids with learning issues need to know they can succeed. Braintrust connects certified educators who are trained in language remediation and that's why I'm excited to join, so we can make a long-lasting meaningful difference in children's lives."
Without having the proper tools or intervention when he was younger Marc learned to deal with dyslexia in his own way throughout his entire education. He has overcome his challenges and gone on to a successful career in the hospitality industry. Chef Murphy made his way through the ranks at several fine dining restaurants in New York City, worked as the Executive Chef in some of the finest kitchens and eventually opened his first solo enterprise, Landmarc Tribeca in 2004 and today is one of New York's most celebrated chefs.
"Marc shines when talking about dyslexia. You can see his passion for the cause from his personal experiences," said Jen Mendelsohn, co-founder of Braintrust. "Marc is a true role model because children need to know they are going to get through this, and that with the right support, they will reach their full potential."
About Braintrust
Braintrust is an online tutoring marketplace where parents can connect with certified teachers and learning specialists for private tutoring and learning interventions for students who learn differently. Our mission is to empower teachers, support families, and create a better tutoring experience. Braintrust is a progressive tutoring company designed by expert teachers and seasoned parents who know there is a better way to help kids capture their spark and discover their love of learning. For more information, visit http://www.braintrusttutors.com and follow @braintrusttutors on Instagram and Facebook.
About Chef Marc Murphy
Marc Murphy is a Chef & Restaurateur who has been cooking for over thirty years. He is a judge on Food Network's top-rated shows, Chopped and Chopped Junior and has appeared on Guy's Grocery Games, Guy's Ranch Kitchen, Beat Bobby Flay, The Today Show, Good Morning America and the Rachael Ray Show among others. Today Murphy's involvement in the industry moves beyond the kitchen and television. He is both a Food Council & Board Member of City Harvest, New York City's largest food rescue organization. He also sits on the Leadership Council for Share our Strength's No Kid Hungry campaign. In 2012, Marc joined the U.S. Department of State's Diplomatic Culinary Partnership, where he took part in public diplomacy programs, and today he continues that work through the Culinary Diplomacy Project as a Chef Diplomat traveling to destinations around the world as a representative of American culture and cuisine. He is the author of Season with Authority: Confident Home Cooking his top selling cookbook and launched his hosting duties with his debut podcast, Food 360 with Marc Murphy produced by iHeartRadio.
Chef Marc Murphy Contact:
Emily Karpin
emily@benchmarc-restaurants.com
516-319-5083