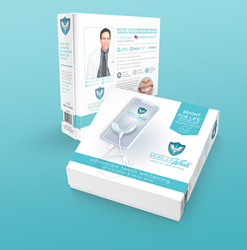 "Mobile White™ is a revolutionary tooth whitening system that enables you to get your teeth their whitest anytime, anywhere, and with ZERO sensitivity and FAST results." ~Dr. Bill Dorfman
Los Angeles, CA (PRWEB) November 27, 2018
Celebrity cosmetic dentist and leading dental expert in teeth whitening for more than three decades, Dr. Bill Dorfman, is launching Mobile White™ this month on Amazon, just in time for the holidays. Mobile White™ is an advanced, easy-to-use teeth whitening system that connects to your smartphone for a 20-minute whitening cycle.
Known as "America's Dentist," Dr. Bill has changed thousands of lives, most notably on the ABC hit show, "Extreme Makeover," and "The Doctors." Responsible for some of Hollywood's brightest smiles, one of the most common complaints Dr. Bill receives is stained teeth. However, professional whitening treatments can be very time consuming and expensive. Inspired by his own hectic schedule and drawing from his expertise in teeth whitening, Dr. Bill helped design the portable system that allows access to powerful teeth whitening using an LED light, no matter where you are.
"Mobile White™ is a revolutionary tooth whitening system that enables you to get your teeth their whitest anytime, anywhere, and with ZERO sensitivity and FAST results," says Dr. Bill. "Just plug it into your phone and let the Mobile White™ LED and whitening gel brighten your smile."
"Dr. Bill Dorfman is a leader in both cosmetic dentistry and teeth whitening, so we are thrilled to be partnering with him to launch Mobile White™," said Sidney Richlin and Ronny Mirel, co-founders of Mobile White's™ parent company Beverly Hills Smile. "We drew from Dr. Dorfman's dental expertise and were inspired by our hectic schedules to create a product that is not only effective and user-friendly, but also gives back."
Not only does Mobile White™ help you gain confidence in your smile, it also helps a community of young future leaders! A portion of each kit's sales goes to the non-profit LEAP Foundation (http://www.leapfoundation.com) – a motivational, leadership program, founded by Dr. Bill, to give high school & college students a seven-year LEAP in life.
Mobile White™ is compatible with all mobile devices and USB ports, and retails for $79.99 on Amazon.com/MobileWhite.