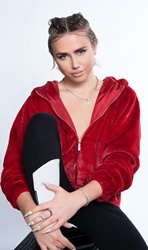 Today, I stand with PETA to say that I am PROUD to wear fake! Rather than being ashamed or trying to disguise something to make it look like real fur, let's make wearing faux the new, responsible norm
LOS ANGELES (PRWEB) December 15, 2020
Today, PETA proudly announced a partnership with Celebrity Stylist and Famed Fashion Designer Matt Sarafa. Together, they are launching a LIMITED EDITION MATT X PETA, a line of faux fur bomber-style jackets and coordinating fashion forward face masks, all to raise awareness and funds to stop animal cruelty and keep it cool, by keepin' it fake.
Undeniably, one of the most talented among the new generation of designers, Matt Sarafa is the youngest designer to have ever shown at New York, Paris, and LA Fashion Weeks. Since stepping out in the fashion scene when he appeared on Project Runway Juniors, Sarafa has become a go-to stylist for some of the biggest names in Hollywood, including Tyra Banks, Iggy Azalea, DojoCat, Big Sean, to name a few.
Matt's clothes have appeared in movies, television series, magazine shoots seen around the world. On top of his impressive accolades in fashion and design, Matt can often be seen on Bravo's Real Housewives of Beverly Hills.
"For years, the fashion industry put real fur on a pedestal; an indicator of an item's worth or quality of luxury." Says Matt Sarafa. "Today, I stand with PETA to say that I am PROUD to wear fake! Rather than being ashamed or trying to disguise something to make it look like real fur, let's make wearing faux the new, responsible norm. It's time to be supporters of animal rights and rock faux fur apparel and accessories as badges of honor."
For decades, PETA has exposed horrific cruelty to animals on fur farms around the world.
Each year, around 100 million animals are bred and killed to supply the fashion industry with not only traditional fur coats but trim for hooded jackets, pompoms used on hats, gloves, shoes and a range of other clothing and accessories...
"This luxurious vegan bomber will encourage everyone to 'go faux' for goodness sake. PETA is delighted to team up with Matt Sarafa to spread the message that killer looks shouldn't actually kill anyone." Says PETA's Executive Vice President Tracy Reiman.
About PETA
People for the Ethical Treatment of Animals (PETA) is the largest animal rights organization in the world, with more than 6.5 million members and supporters.
PETA opposes speciesism, a human-supremacist worldview, and focuses its attention on the four areas in which the largest numbers of animals suffer the most intensely for the longest periods of time: in laboratories, in the food industry, in the clothing trade, and in the entertainment industry. We also work on a variety of other issues, including the cruel killing of rodents, birds, and other animals who are often considered "pests" as well as cruelty to domesticated animals.
PETA works through public education, cruelty investigations, research, animal rescue, legislation, special events, celebrity involvement, and protest campaigns.
About Matt Sarafa
Matt Sarafa is a Los Angeles based 23 year old celebrity fashion designer and reality television personality best known for his appearances on The Real Housewives of Beverly Hills and Project Runway Junior. As the youngest designer to have ever shown at New York, Paris, and LA Fashion Weeks, Matt has come a long way since he started designing at age 7. Sarafa is a 2020 UCLA graduate in addition to running his own company and dressing some of the biggest names in Hollywood such as Tyra Banks, Iggy Azalea, Doja Cat, Big Sean, LisaRaye Mccoy and many more. The Matt Sarafa brand has been published by prestigious media outlets including Vogue, Forbes, The New York Times, Harper's Bazaar, Elle, Galore, and countless others.
To order your LIMITED EDITION MATT X PETA jacket and mask, go to https://mattsarafa.com/