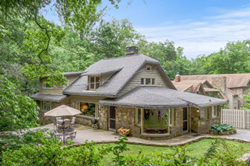 Where Real Estate Is Never Boring!
POMPANO BEACH, Fla. (PRWEB) July 28, 2021
"Billy Graham's Longtime North Carolina Home"
World-famous evangelist Billy Graham preached the gospel to more people than anyone else in the history of Christianity. Known as "America's Pastor," he served as a spiritual advisor to every U.S. President from Harry Truman to Barack Obama. Beloved by millions, he had friendly relationships with luminaries from Queen Elizabeth to Martin Luther King Jr. Sometimes criticized for his inclusivist views, Graham preached against segregation and apartheid and urged unity between Catholics and Protestants. He wrote dozens of books, many of which became bestsellers and received numerous awards including the Presidential Medal of Freedom. He first rocketed to national prominence with his "Crusades" - revivals held first in tents and later in stadiums across the world. He died in 2018 at the age of 99.
The Montreat, North Carolina cottage in which Graham and his family lived during his monumental movements is now on the market for the first time at $599,000. Under the current ownership of Graham's daughter, Ruth, it has served as a vacation rental in which guests could experience the Grahams' family life through a collection of original furnishings, books, photos and mementos. Unfortunately, Ruth's own daughter is gravely ill, and she has made the heartbreaking decision to sell the residence to pay for her medical treatments.
The four-bedroom, two-bath home sits on one-third of an acre of beautifully manicured grounds with mature trees and a paved patio for entertaining or relaxing with family. Stone steps lead to a stream with a wooden bridge and walking paths through the surrounding forest. The house's charming stonework exterior matches the garden walls. Inside, stunning blonde hardwood floors and wall paneling provide an atmosphere of rustic charm. The living room features a fireplace with more lovely stonework. Big windows bring in lots of light and picturesque forest views. Unique built-in furnishings match the wood paneling. With two levels of living space, the home has been lovingly maintained. "This cozy cottage presents a unique opportunity to own a piece of history. Showcasing the legacy of Billy Graham, it maintains a historic charm while offering modern comforts," says agent Brian Etheridge.
Montreat, a portmanteau of "mountain" and "retreat," is a secluded village in the Asheville, North Carolina area with about 700 residents and no stoplights. Much of the retreat's funding came from John S. Huyler, who in the late 1800s was the largest chocolate-candy manufacturer in the country and where Milton Hershey worked for several years. Many of the town's buildings date to the early 1900s, and it has no commercial development. The area is best known for the Presbyterian-affiliated Montreat Conference Center, Montreat College, and the Graham home. More than half the town's land is under a conservation easement, with 30 miles of trails winding through the wilderness as well as ample opportunities for outdoor recreation, including paddle boating, canoeing and fishing.
The listing is held by Brian Etheridge of Premier Sotheby's International Realty's Asheville office.
"L.A.'s Best Views - San Gabriel Mountains to the Channel Islands"
Can a super contemporary home with views stretching from the San Gabriel Mountains to the Channel Islands and a master bath that, according to the listing agent, "rivals a seven-star resort" get any better? Add in an infinity pool, outdoor tequila bar, champagne-tasting room, glass elevator, water features similar to Disneyland, a DJ table on hydraulics, koi pond, and some of the best views in Los Angeles. Palazzo di Vista in the city's Bel Air neighborhood is for sale with a unique asking price of $87,777,777. The number seven has been incorporated in the home several times in addition to the price, including bedrooms (there are seven) and measurements.
Reconstructive surgeon-to-the-stars, Alex Kadavi, made his fortune keeping the beautiful people looking their best. His success in the cosmetic-medical field made it possible to fulfill one of his dreams: design and build, in collaboration with Ali Rad Design Group, 'Palazzo di Vista,' a contemporary-futuristic home that includes a first-of-its-kind, multi-sensory art gallery. It is located on top of a promontory in Bel Air with some of L.A.'s best views.
Kadavi's home is sited on a bit over one acre with seven bedrooms and eleven baths, which includes a master wing with a floating wrap-around deck and the "seven-star resort" bath. There is a glass-walled wine room, multiple dining venues both inside and out, a theater large enough for a crowd, additional lounge areas and a suspended glass floor walkway. The kitchen is large and minimalist in design and is open to the outdoors with two glass walls. There is also a detached guest house.
The listing agents are Aaron Kirman of Aaron Kirman Group at Compass and Mauricio Umansky of The Agency.
For more celebrity home news and home video tours, visit TopTenRealEstateDeals.com.