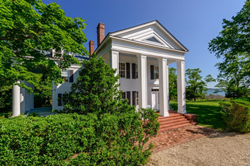 Where Real Estate Is Never Boring
POMPANO BEACH, Fla. (PRWEB) March 13, 2019
Christie Brinkley is one step closer to saying goodbye to her super real estate investments in the Hamptons. Savvy about the Hamptons real estate market, she owns two exceptional residences now for sale: a 20-acre, 11,037-square-foot family compound, Tower Hill, in Bridgehampton listed at $29.5 million, and a smaller, beautifully-situated 5,500-square-foot residence on 4.5 acres on the bay in Sag Harbor built by a whaling captain in 1843. The Sag Harbor home is now under contract selling for just under its list price of $17.5 million.
With her daughters grown and the Uptown Girl now living in her snazzy Tribeca penthouse rental to be closer to them, Christie doesn't get out to the Hamptons as much anymore. Of her two large properties worth close to $50 million and both listed by Enzo Morabito of Douglas Elliman, the Sag Harbor charmer will be the first to go. Now Christie has two things to celebrate in early 2019 - her 64th birthday and a fresh new contract.
Brinkley purchased the Sag Harbor home in 2004 and set about updating it while preserving its historic character and adding her personal signature touch of whimsy. It still retains the original millwork, the wide-plank floors, multiple fireplaces and oak banister. The three-story, four-bedroom colonial also has Christie's additions of a soapstone sink and marble kitchen counters among other updates. The magnetism of the grounds is where the magic comes into play like its 300-feet of sandy beach, the pool and the waterfront fire pit. Almost every room of the house has a priceless bay view.
The picturesque 19th-century whaling port of Sag Harbor draws wealthy vacationers, writers, authors and celebrities these days instead of whalers. The town takes the mind back to a past era with its gray-shingled houses with roses climbing up walls and over fences, boats bobbing in the bay, quaint restaurants and shops. Though the Hamptons is crawling with celebrities, Hamptonites generally take their existence there for granted, which allows them to enjoy life without autograph seekers hounding them. Each town has its own appeal from glitzy wealth to quaint and charming. It is said that the character of each town is so different, it's like going to different movies, which gives a lot of taste options for visitors and house shoppers.
The first of Christie Brinkley's two lovely homes in the Hamptons has just exited the market with a new contract. Brinkley's Hamptons real estate agent, Enzo Morabito of Douglas Elliman is handling the sale for a price just under its list of $17.5 million.
Visit TopTenRealEstateDeals.com for more historic, spectacular and celebrity homes and real estate news.