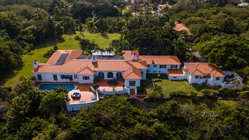 Where Real Estate Is Never Boring!
POMPANO BEACH, Fla. (PRWEB) March 11, 2020
"Duke of Windsor's Bahamas Estate"
Several years after Prince Edward, the Duke of Windsor, abdicated as King of England in 1936 to marry the American divorcee Wallis Simpson, his mother, Queen Mary, told him she would cut off his allowance if he ever moved back to Britain. The queen sent him to the Bahamas and gave him the island's governor's job where the couple bought a home while awaiting completion of the renovation of Government House, the official residence.
On their arrival at the island of New Providence, the Windsors moved into their new country estate on four acres located on a ridge just outside Nassau overlooking gorgeous ocean and bay views. The Spanish-colonial home was built in the 1930s by British-movie-producer Frederick Sigrist who was also a pioneer in aviation. The 15,000-square-foot main residence has retained its British character with wood-paneled walls and fireplaces, four of which were imported from English country homes. The lushly planted tropical grounds flow out from the terraces and loggia and contain flower gardens, fruit and coconut trees. The swimming pool and spa have views of the ocean and manicured grounds. Restaurants, shops and a casino are only a short stroll from the estate.
Named Sigrist House, it is one of the most exquisite properties in the islands and is now on the market priced at $8.5 million. The listing agent is Mark Hussey, of Damianos Sotheby's International Realty, Nassau.
"An American Castle for Prince Harry and Megan Markle"
Though Megan Markle claims she will never live in the United States as long as Donald Trump is president, a medieval-cum-French-chateau castle now for sale in Oregon couldn't be a more perfect home for ex-royals. Though the Oregon couple who took seven years to build it ended up going their separate ways and using it as an Airbnb at $2,000 a night, the Sussexes could do the same as a first step to their financial independence from the Crown, while waiting for American politics to come around to their way of thinking. Fairytale Blackberry Castle has been waiting for its real prince to finally come along and is priced at $3.9 million.
In addition to the castle's exterior with its copper-turret roofs spectacular enough to be a landmark for commercial pilots, the visual impact of the interior is unique for its architectural-designed details and clever use of space. For example, where turrets have generally been wasted space in castles and the great chateaus of France that are being restored, in the case of Blackberry Castle a turret has been turned into a multi-story library with a massive-working clock on its ceiling. The gym with climbing wall appears to be a rather whimsical dungeon and the workout equipment could be used as instruments of torture. Sited on 6.4 acres and measuring in at 13,000 square feet, the five-bedroom, six-bath home was completed in 2008 with every conceivable luxury such as wine cellar, gym, chef's kitchen with a $50,000 custom range from Italy, home theater, four fireplaces, an atrium bar and entertainment space styled like a European village.
Grounds include a 700-plant vineyard producing pinot noir and chardonnay. Outside, underneath the vineyard hill is an underground wine cellar and tasting room built in a reinforced shipping container where 400 bottles can be stored at a constant 59 degrees. The grounds, with their valley views overlooking the treetops, also contain a tennis court with lighting and an in-ground trampoline. A 1,900-square-foot detached guest home is an ideal place for relatives to visit such as Prince Charles or Queen Elizabeth.
Since Prince Harry and Megan Markle's last day as functioning senior royals comes on March 31st and Portland seems like the perfect place to shed the glare of many paparazzi as they wish to do, Blackberry Castle is a fitting environment for Harry, who is still a prince and sixth in line for the throne of England. And a reasonable commute for Megan to the film centers of Hollywood and Canada. Priced at a very reasonable $3.9 million for their pocketbooks, the listing agent is Daniel Lowe of Luxe Christie's International Real Estate, Lake Oswego, Oregon.
Visit TopTenRealEstateDeals.com for more historic, spectacular and celebrity homes and real estate news.