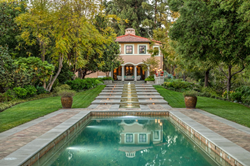 Where Real Estate Is Never Boring!
POMPANO BEACH, Fla. (PRWEB) May 21, 2021
"'The Real Housewives' Erika Jayne's Pasadena Mansion"
The year 2006 was a good one for cable channel Bravo when it introduced "The Real Housewives" franchise, a reality television series depicting the real lives of wealthy housewives inside and outside of their glamorous mansions in cities such as Beverly Hills, New York and Dallas. A sultry and often back-biting mixture of sex, greed,and mean girls, one of the most popular-and-controversial housewives, Erika Jayne lives in a stunning historical mansion spanning almost two acres of lush grounds in Pasadena. Almost like a "Real Housewives" storyline, Erika has recently divorced her high-powered-and-older, attorney-husband, Tom Girardi, among allegations of infidelity; Tom diagnosed with Alzheimer's and his law practice in shambles; both Erika and Tom the subject of a legal investigation involving millions of dollars of missing client funds; personal and business bankruptcy; and they have put their fabulous mansion on the market at $13 million.
Designed in 1928 by Myron Hubbard Hunt, visitors enter through iron gates into the motor court and then through a solid-bronze front door. At 10,277 square feet, the home, with its large-scaled rooms, has four bedrooms and nine baths. The formal rooms are elegant and designed for entertaining large groups and have floor-to-ceiling glass doors with views over the terraces and mature gardens. High-coffered ceilings and large fireplaces are found in almost every room and silk wallcoverings grace the formal dining room. The chef's kitchen is cheerful and full of sunlight, there is a large wine cellar, the large library is paneled in walnut and the master suite has separate dressing areas, hers designed in Chinoiserie and red-silk walls surrounding the bath and his with a more masculine theme. There are terraces for outdoor dining and enjoying the view of the Colorado Street Bridge. Heavily landscaped paths, fountains and outdoor chandeliers surround the opulent mansion and its gardens.
Erika's mansion is located at the gateway to Pasadena between the Arroyo Seco and Annandale Golf Club. The listing agents are Ted Clark and Heather Lillard of Compass, Beverly Hills.
"Walter Cronkite's New York Brownstone"
The longtime New York home of "the most trusted man in America" is for sale at $7.7 million. Walter Cronkite, the CBS news icon who brought stories such as JFK's assassination, America landing on the moon, and Watergate to millions of Americans, bought the four-story brownstone for $40,000, soon after moving to New York in the early 1950s. It was the home where Walter and wife, Mary "Betsy" Cronkite, raised their three children. Walter died in 2009.
Born in Saint Joseph, Missouri, Walter dropped out of the University of Texas and, in 1936, began working as a sports announcer in Kansas City, later became one of America's most important World War II reporters covering dangerous bombing raids over Germany and the Battle of the Bulge. In 1950, he went to New York where he later took over the "CBS Evening News" in 1963 - just a few weeks before the JFK assassination.
Built in 1880, the Cronkites purchased their New York home soon after he moved his family to the city. According to the current owner in an interview with the New York Post, Cronkite had a hard time finding a place to live and purchased the home for $40,000 - with squatters in residence. The Cronkites turned the home into an elegant residence where they raised their children and entertained world leaders, celebrities and business CEOs for almost 50 years. When the Cronkites sold the home in 1999, the new owner, who is still the home's owner, updated the home respectively enhancing its best historical features while at the same time adding new features that would take it elegantly through the 21st century. A brownstone with great bones, the home has beautiful millwork, stunning fireplaces, attractively-crafted plaster ceilings, large windows, a rear garden and three Juliet balconies from which to view it.
Located in the Yorkville neighborhood near Carl Schurz Park on a tree-lined street, the four-story, 4,000-square-foot home has four bedrooms and six baths plus a maids/guest room. Rooms are large and airy with tall ceilings and big windows that fill the rooms with natural daylight. Rooms include formal living and dining rooms, family room, modern eat-in sunny kitchen with French doors that open to the landscaped garden and an exercise room. The master suite, located on the 3rd floor, has two dressing rooms, a fireplace, and the larger of the three Juliet balconies.
One of New York City's best brownstones, the former Cronkite home is listed by Thomas Wexler of Leslie J. Garfield, Manhattan office.
For more celebrity home news and celebrity home video tours, visit TopTenRealEstateDeals.com.