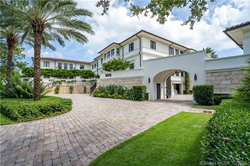 Where Real Estate Is Never Boring!
POMPANO BEACH, Fla. (PRWEB) December 09, 2020
"Marc Anthony's Florida Mansion"
Singer-and-songwriter Marc Anthony, ex-husband of JLo, found his niche in Latin music and skyrocketed to success, the best-selling-salsa-recording artist in history. With great wealth having sold over 12 million albums, he has bought and sold a number of glamorous homes. In the summer of 2018, Marc purchased an unfinished waterfront mansion in Coral Gables, Florida, the home of Bacardi heiress, Hilda Maria Barcardi, for $19 million - the highest price ever paid in the exclusive Cocoplum subdivision. Now completed and only two years later, Marc has put it back on the market at $27 million.
Known as Casa Costanera, the mansion is one of the largest homes in South Florida at 20,546-square-feet living space with 12 bedrooms and 13.5 baths. There is an elevator to all three floors. Ideal for entertaining, the home has three kitchens, wine cellar and separate staff quarters. The landscaped 1.3 acres has 480 square feet of water frontage on a corner lot with direct Biscayne Bay access and a 100-foot dock. There is also a swimming pool with bay views. The mansion is located near other celebrities including Pharrell Williams and JLo's current fiance, Alex Rodriguez.
With his trademark swiveling hips and upbeat salsa songs, Marc is a huge star in the Latin countries and almost as big in the rest of the world. Born in New York's Spanish Harlem to Puerto Rican parents, he has been recognized by New York magazine as one of the ten most influential New Yorkers and was inaugurated into the Billboard Hall of Fame in 2012. Marc has won two American Grammys and seven Latin Grammys and was recognized with a Lifetime Achievement Award by the Congressional Hispanic Caucus. Marc is also known for his acting, song writing, fashion designing and television producing. He starred on Broadway in Paul Simon's musical, The Capeman, and appeared in the films Big Night and Man on Fire.
Marc Anthony's stunning Casa Costanera is listed by Anamaria Velásquez and co-listed by John Parsini of Nexxos Realty, Miami, Florida.
For more celebrity home news and celebrity home video tours, visit TopTenRealEstateDeals.com.