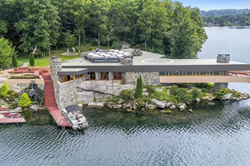 Where Real Estate Is Never Boring!
POMPANO BEACH, Fla. (PRWEB) August 13, 2021
"Mark Twain's Final Home Is Stunning & For Sale"
Samuel Langhorne Clemens was fascinated by thoughts of adventure as a boy, dreams that he later wrote about when he took on the pen name Mark Twain, which translated, was steamboat slang for 12 feet of water. Later in his life, he moved to Connecticut to be closer to his publisher, and he eventually purchased a stunning estate outside of Redding that he called Stormfield - named after his last published story during his life, "Captain Stormfield's Visit to Heaven." The home is now on the market, listed at $4.2 million.
At age 72, Clemens purchased Stormfield, where he lived until his death in 1910. Sited on 28 acres adjoining a 161-acre land trust, the 6,300-square-foot home is built in the Tuscan villa style, which Clemens fell in love with during his Mediterranean travels. A large house, it has four bedrooms and six baths, Clemens especially admired the beauty of the rural countryside surrounding it. After his death in 1910, the house was badly damaged in a fire but was reconstructed in 1925 incorporating the same look, original gardens, stone walls and pillars. There are four bedrooms and six baths, three fireplaces, large formal rooms and a big eat-in kitchen with adjoining family room. The living room has the extra bonus of hand-painted, wood-beamed ceiling and fireplace with a library alcove. Floors are hardwood and marble. The house has a detached pool-carriage house with a heated pool, and there is a three-car garage with a caretaker cottage above that has two bedrooms, bath, living room, kitchen and deck. There are multiple terraces around the main house for outdoor dining.
Although people usually associate Twain, who William Faulkner referred to as "the father of American literature" with Missouri and the Mississippi River, he lived in many places including San Francisco, Nevada, Cincinnati, Philadelphia and New York. He lived most of his adult life in Connecticut, including Stormfield and his home in Hartford, which is now the Mark Twain House & Museum and is open to the public.
The listing agent is Laura Freed Ancona of William Pitt Sotheby's International, Ridgefield, Connecticut.
"Right Or Wrong – Two Frank Lloyd Wright Designed Homes"
The most famous architect in American history, Frank Lloyd Wright designed over 1,000 structures, including Fallingwater, Johnson Wax Headquarters and the Guggenheim Museum. Roughly 50 miles north of New York City in the middle of Lake Mahopac on its own island, there is a stunning house cantilevered over the water that has had its share of controversy over whether or not it was designed by Frank Lloyd Wright. Originally listed in 2012 at $20 million, it is back on the market priced at $9.95 million.
Known as the Massaro House, the original owner of the island, Ahmed Chahroudi, engaged Wright in 1950 to draw the plans of the main house and guest house. When they were completed, Chahroudi realized the cost to build was far over his $50,000 budget, so he had only the 1,200-square-foot guest house built. The plans were passed on to the next owner, Joseph Massaro, who purchased the island in 1996 for $700,000. Massaro wanted to build the main house but didn't care for some elements in the plans. The Frank Lloyd Wright foundation required $450,000 to rework the plans and supervise the construction in order to certify the house under the Wright name. This was untenable to Massaro, so he hired Thomas A. Heinz, an architect-contractor and Wright historian to do the house instead. The Frank Lloyd Wright Foundation took Massaro to court obtaining a judgment that he was only allowed to describe the main house design as "Wright inspired," though the guest house was an original Wright.
Built in 2007 on the 10.37-acre Petra Island, the 8,415-square-foot house has four bedrooms and two baths, between it and the guest houses there are six bedrooms and four baths. Also on the property is the original 1950 Wright-certified guest house, a second guest house, tea house, beach, dock and helipad. Many Wright features are immediately recognized such as the large fireplace in the room jutting out over the water (there are six fireplaces in all), grouped skylights, built-in furniture, and the use of wood throughout the home. Changes that Massaro made were adding air conditioning and radiant heat and the safety feature of chimney caps, which Wright detested. Massaro also removed a stairwell that ran from the deck to the shore. Wright's designs would not pass today's building codes as initially drawn.
Used as a private getaway or for holding events, the island can be accessed by car, boat and helicopter. Lake Mahopac is a 587-acre lake to enjoy fishing, boating, jet skis and wave runners with skating and ice boating in the winter. A number of the island's residents commute to Manhattan.
Margaret Harrington and Monica Webster of Douglas Elliman are the home's listing agents.
For more celebrity home news and celebrity home video tours, visit TopTenRealEstateDeals.com.