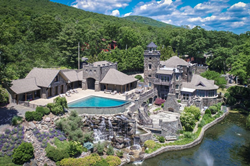 Where Real Estate Is Never Boring!
POMPANO BEACH, Fla. (PRWEB) March 25, 2021
"Tom Cruise's 320-Acre, Colorado Mountain Ranch Is For Sale"
Stardom surged for Tom Cruise when he was just 19 and slid into the hallway in Risky Business in 1983. Now in his fourth decade as one of the world's most successful and wealthy actors, Tom owns homes in Beverly Hills; Clearwater, Florida and a 320-acre ranch in Telluride, Colorado that he helped design and is now for sale at $39.5 million.
Tom's Telluride home holds a lot of history for him, where he enjoyed time with his children and much of his marriage to Katie Holmes. It was also the location of his last major interview with Oprah, a follow-up to Tom's exuberant couch-jumping episode with Oprah in 2005. Oprah was so taken with the Cruise ranch and its views that she later bought her own home nearby.
The first impression of Tom's home driving up the mile-long driveway is the staggering view of the mountains and valleys. Designed to take full advantage of the views, the 11,512-square-foot living space includes the 10,000-square-foot, four-bedroom main house and a three-bedroom guest house. Blending in with its wooded surroundings, the structures are clad in rustic-bleached-cedar timbers and native stone with beamed ceilings and large expanses of glass. In addition to a large eat-in kitchen, living room and dining room that will seat a crowd, there is a gym, recreation room and library. Detached and in its own aspen grove is the charming guest house. Combined, there are a total of seven bedrooms and nine full baths.
The Cruise grounds are equally impressive including a sports court for tennis, basketball or ice hockey and a private trail system with postcard views of the 14,000-foot-high mountains in the distance. There are hiking and riding trails and both dirt bike and snowmobile tracks which thread throughout the 320 acres. The listing agent for the ranch, listed at $39.5 million, is Dan Dockray of LIV Sotheby's International Realty, Telluride, Colorado.
"Jimmy Fallon Lists Eclectic New York Penthouse"
For over ten years, late-night-chat-show-host Jimmy Fallon and his film-producer wife, Nancy Juvonen, accumulated four apartments in New York's Gramercy co-op that they turned into a triplex penthouse. As eclectic as their creative personalities, they have recently put the four-in-one, 5,000-square-foot apartment on the market at $15 million.
The Jimmy Fallon home is filled with unexpected combinations of color, pattern, texture and objects, which begin in the foyer and continue through the entire apartment. Now with six bedrooms and five full baths, the apartment has been lovingly restored from the window casings to the original hardwood floors. Stacked one above the other, the three largest rooms include the eat-in kitchen with fireplace, the living room above that with a stone fireplace, a bar, and wood-and-plaid walls. The master suite on the highest level offers skylights, a sitting area with wet bar, two walk-in closets and dual-vanity bath. Remaining bedrooms are located on the top and lower floors. The colorful rooms include vintage wallpapers, fabrics and collected treasures from around the world. The listing agent for the Fallons is Jeremy V. Stein of Sotheby's International Realty - Downtown Manhattan Brokerage.
"Derek Jeter Lowers Price on Family Castle"
More unique than almost anything else on the real estate market today and expansive enough for family, extended family, teammates and favorite friends, retired New York Yankees star and first-ballot MLB Hall of Famer, Derek Jeter, has dropped the price on his castle-like resort home on Greenwood Lake in New York by $2 million. Previously listed in 2018 at $14.75 million, it is now back on the market at $12.75 million.
Known locally as "The Castle" and originally built in 1903 by New York Doctor Rudolph Gudewill for his wife, the estate is actually two castles: the master castle with a connected tower and a guest castle. After Gudewill died, John and Julia Tiedemann bought the castle, where they lived with their 13 children including an adopted son, William Connors. Connors was later to become Jeter's maternal grandfather. Jeter spent many of his childhood summers at the castle swimming, playing sports and chores. The Tiedemanns sold the estate in 1996, but when it came back on the market in 2002, Jeter bought it and began a long and expensive restoration.
Encompassing 12,590 square feet of living space between the main and guest castles, the Jeter compound includes four indoor kitchens, one outside kitchen and an extra-large, infinity-edged pool. Living areas include six bedrooms, seven full and five half baths, great room, four kitchens, multiple stone fireplaces including one on the terrace, dens, game room, sunroom, formal dining room, office, gym and family room with a bar. The turret opens out to a widow's walk, which is duplicated on the guest house, providing beautiful lake and wood views. There are extensive gardens, a Statue of Liberty replica and a four-car garage. Even with a large number of guests, there is always a quiet place to spend some alone time. The listing agent is Mary Lovera with Wright Real Estate, Nyack, New York.
For more celebrity home news and celebrity home video tours, visit TopTenRealEstateDeals.com.