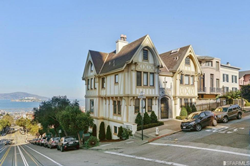 Where Real Estate Is Never Boring
POMPANO BEACH, Fla. (PRWEB) March 06, 2019
"Nicolas Cage's San Francisco Home"
Back when he was one of Hollywood's highest-paid actors earning as much as $40 million in 2009, Nicolas Cage owned a collection of the world's most interesting homes including a San Francisco home built in 1914 for Armenian sculptor Haig Patigian - now for sale at $10.95 million.
With a long string of blockbuster hits under his belt including 'Moonstruck' and 'Peggy Sue Got Married,' Nic won an Oscar in 1996 for his role in 'Leaving Las Vegas' about an alcoholic screenwriter who moves to Las Vegas to drink himself to death. By the early 2000s, Cage was plowing millions of his movie-star dollars into real estate owning as many as fifteen homes. His collection included two European castles, an island in the Bahamas, a waterfront home in Newport Beach, a country estate in Rhode Island, a Las Vegas mansion, a 1928 castle in Los Angeles where he had walls covered in purple velvet, and the LaLaurie Mansion in New Orleans. According to Cage, LaLaurie was "the most haunted house in America." In 2007, Cage bought one of San Francisco's most historic homes perched high on Francisco Street with some of the city's best views.
Built on Russian Hill at a time when the neighborhood was still rebounding after many of the ritzy homes were destroyed by the 1906 San Francisco Earthquake, the large Tudor Revival home of 6,305 square feet spans four floors, all with spectacular views of San Francisco Bay. It is only two blocks from the zigzagged Lombard Street near parks and some of the city's most beautiful homes in all styles of classic architecture - a perfect location for leisurely scenic strolls. The open and airy main floor includes a large foyer with classic staircase, formal living and dining rooms, library, powder room, and an eat-in kitchen that connects to the two-car garage. Architectural details include much of the original millwork, leaded and stained glass, wood-burning fireplaces in both living room and library, and the far-reaching views over the bay. The second floor contains two en-suite guest rooms, the large master suite with two dressing rooms and large bath, a linen closet and mirrored wet bar. The third level has two more en-suite bedrooms with vaulted ceilings and the lowest floor includes a large family room, a gym, wine cellar and sixth bedroom and bath.
One of Nicolas Cage's former homes is for sale, priced at $10.95 million. The listing agent is Mark Allan Levinson of Compass Realty, San Francisco, California.
Visit TopTenRealEstateDeals.com for more historic, spectacular and celebrity homes and real estate news.