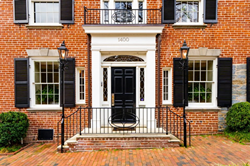 Where Real Estate Is Never Boring!
POMPANO BEACH, Fla. (PRWEB) March 20, 2020
"Jack & Jackie's Beverly Hills Honeymoon Mansion"
The former estate of newspaper magnate William Randolph Hearst is for sale at $125 million. Well known for its memorable scenes in the movies 'The Godfather' and 'The Bodyguard,' Beverly House was also John and Jacqueline Kennedy's honeymoon home and JFK's 1960 West Coast presidential-election headquarters.
Built in 1927, Beverly House features 18 bedrooms, 25 bathrooms, 12 fireplaces, two swimming pools, exquisite formal water gardens and six separate structures. Designed by Gordon Kaufmann, the architect behind the Hoover Dam and some of the most important estates in the Beverly Hills area, the estate is well known in the architectural world for its H-form design characterized by long colonnades, wide balconies, arched floor-to-ceiling windows and its spaciousness: a stunning two-story library with hand-carved paneling and a wraparound walkway; a formal living room with its 22-foot-high, hand-painted arched ceiling; a state-of-the-art spa; and a billiards room with herringbone parquet floors and an intricately designed ceiling and carved fireplace - both from the Hearst Castle in San Simeon.
Located on approximately five acres of landscaped flat land only three blocks from Sunset Boulevard and the Beverly Hills Hotel, Beverly House stands as an emblem of Hollywood's Golden Era. Priced at $125 million, the listing agents are Mauricio Umansky and Santiago Arana of The Agency, Beverly Hills.
"Kennedy's Former Georgetown Home Is For Sale"
In the late 1940s, a young John Fitzgerald Kennedy moved to Washington D.C. as a newby congressional representative from Massachusetts where he lived in a beautiful red-brick home in the city's Georgetown neighborhood. According to local legend, JFK first met Jacqueline Bouvier at a nearby neighborhood dinner party when introduced by a mutual friend. According to the friend, Jack reached across the table for the asparagus and asked her for a date. Today, after extensive renovation and updating, the stately home is on the market at $4.68 million.
Since Washington's first days as America's capital city in the 1790s, politicians, lobbyists, and journalists have gravitated to the Georgetown neighborhood for the city's best restaurants, schools, art galleries, quaint shops and homes. It has been home to Francis Scott Key and Alexander Graham Bell. Both Jack and Jacqueline Kennedy, prior to and after their marriage, lived there. The Clintons, Pamela and Averell Harriman, columnist Drew Person, Henry Kissinger and many of the country's movers and shakers have called Georgetown home. With Georgetown University on the community's doorstep, many of the capital's embassies including France, Sweden and Thailand are located in the neighborhood. Well known to film fans, Georgetown has been the setting for a number of movies including 'Topaz,' 'St. Elmo's Fire' and 'The Exorcist.'
On a tree-lined, cobblestone street, Kennedy's former residence is located only a few blocks to Georgetown University and the Potomac River. The circa-1800, three-bedroom, four-bath house measures in at 4,659 square feet of living space with large windows, high ceilings and is cheerful and bright with sunshine spilling into the large rooms. The ground floor has a dramatic foyer with suspended circular staircase, formal living and dining with large entertaining terrace and a beautifully paneled library. Every inch of the residence has undergone extensive renovation and updating.
Despite coming from one of America's wealthiest families, Kennedy was not much of a home owner almost always choosing to rent instead of buying - including his free White House residence. He also had the unlimited use of his parents' Palm Beach, Florida estate and the Kennedy Compound on Cape Cod.
The Georgetown home that JFK rented in his early congressional days is for sale at $4.68 million. The listing agents are Christie-Anne Weiss and Christopher Ritzert of TTR Sotheby's, Washington, D.C.
Visit TopTenRealEstateDeals.com for more historic, spectacular and celebrity homes and real estate news.