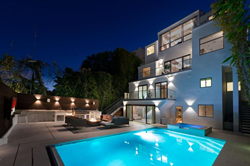 Where Real Estate Is Never Boring
POMPANO BEACH, Fla. (PRWEB) March 19, 2019
"Spice Girl Mel B's Hollywood Home"
Mel B "Scary Spice" Brown gained fame and wealth as a member of the popular girl band, Spice Girls, from 1994 through 2000. The group hit the big time with their first album, 'Spice,' which immediately gained No.1 status in over 17 countries, selling 30 million copies worldwide. It was only the beginning of the group's record-breaking success. Mel branched out as a solo artist even before the group split in 2000 and continued her career as a solo artist, actress, author of her new book 'Brutally Honest' and as a favorite judge on 'The X Factor' in Britain and Australia and 'America's Got Talent' in the United States. Now divorced from filmmaker Stephen Belafonte with whom she co-owned a West Hollywood home since 2014 and planning the start of a 12-performance Spice Girls reunion tour this summer, Mel B has recently put her home on the market priced at $5.9 million.
Located in the storied Bird Streets neighborhood legendary for its spectacular views and its slew of celebrity residents, the four-story, 5,226-square-foot home was built in 1928 and has recently undergone a cutting-edge renovation. The sleek contemporary has ceilings up to 20-feet high and massive glass walls that capture the views of downtown Los Angeles. Encompassing a total of four bedrooms and six baths, the entire fourth floor is devoted to the master suite with two of almost everything including televisions, bathrooms, dressing rooms and private terraces. The lush suite also has both a refrigerator and microwave. The main living area contains formal living and dining, chef's kitchen, recording studio, fully-equipped gym, game room and family room. Rooms are sized for grand entertaining that can continue out to the pool-spa terrace with its outdoor kitchen, television, fire pit and lots of room for guests. In addition to updating the mechanical systems in the house such as plumbing and electric, Brown also upgraded the digital "smart" system which will now operate the entire house including the fire in the fireplace. There is a four-car garage and tall hedges and plantings provide total privacy.
Spice Girl Mel B's West Hollywood home with celebrity neighbors such as Leonardo DiCaprio, Jennifer Aniston and Keanu Reeves is now for sale, priced at $5.9 million. Listing agents are Ben Belack and Blair Chang of The Agency, Beverly Hills and Lucy Nargizyan of Dilbeck Real Estate, Burbank.
Visit TopTenRealEstateDeals.com for more historic, spectacular and celebrity homes and real estate news. Where Real Estate Is Never Boring!