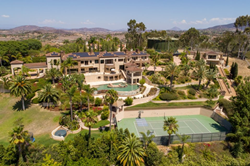 Where Real Estate Is Never Boring!
POMPANO BEACH, Fla. (PRWEB) April 24, 2020
"Beach Boy Mike Love's Southern California Mansion"
Still touring and giving motivation to another generation of those who dream about having "Fun, Fun, Fun" with one eye out for the next good wave and the other on bikinied "California Girls," The Beach Boys' last original member, Mike Love, is still touring and belting out the "Good Vibrations" songs at age 79. Love, co-writer of many of the songs that were the California Sound and lead vocalist, is selling his Rancho Santa Fe, California estate now that he spends his off-the-road time at his home at Lake Tahoe. It is priced at $8.65 million.
Mike Love first appeared with his three cousins Brian, Carl and Dennis Wilson and friend Al Jardine as a musical group in the summer of 1961 under the name The Pendletones, but discovered that their name had been changed to The Beach Boys on their first single, "Surfin." Late that year, "Surfin" hit the Top 40 on local and later the national Billboard charts, the beginning of the California Sound. Prolific songwriters, mostly Brian and Mike, the group stood out for its staying power, even during the onslaught of The Beatles. It also put California, particularly Southern California, on the map of imagination full of sunny days, good waves and pretty girls far better than the state's Chamber of Commerce. "Surfin' USA," "Surfin' Safari," "Surfer Girl" and other great beach songs and movies soared in popularity during the 1960s. But the group, with their own unique, easygoing sound, continued to attract new fans long after the surf culture had run its course.
High on a hill overlooking the mountains, ocean, city and golf courses on 3.5 acres, Love's 17,515-square-foot home is located on one of the best plots in the gated community of Fairbanks Ranch. Much like a private resort, who needs a beach when you have a pool that encircles a spa that feels like being on a private island accessed by a bridge? The tropical grounds also have a swim-up bar, fire pit and tennis court - all with staggering long-distance views. Inside rooms are vast and surfaced with elegant finishes. There are eight bedrooms, nine baths, a chef's eat-in kitchen where many people can join in the cooking with plenty of room to spare. It also opens to a large terrace. Built for grand or informal entertaining, there is also a complete outdoor kitchen. The upper terrace overlooks the pool terrace with a tropical path to the tennis court and lockers below. Though it may not have a beach, there is plenty of water including a three-tiered fountain that was designed after the fountains of Villa d'Este in Lake Como, Italy.
Legendary co-founder of The Beach Boys and lead vocalist, Mike Love, is selling his glamorous Southern California mansion. Priced at $8.65 million, the listing agent is Linda Sansone of Willis Allan Real Estate, Rancho Santa Fe, California.
Visit TopTenRealEstateDeals.com for more historic, spectacular and celebrity homes and real estate news.