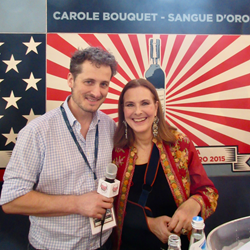 "I wanted a piece of land... I never wanted that before and I was 40 at that time... I decided (because I am a real city girl) to put down roots in Pantelleria, as if I belonged there more than in any place in the world." (Carole Bouquet in conversation with Monty Waldin on the Italian Wine Podcast)
VERONA, Italy (PRWEB) August 01, 2018
In the interview with Monty Waldin, Bouquet speaks of her previous career in the world of cinema and advertising—most famously, she played a Bond Girl in the 1989 James Bond movie For your eyes only and modeled for top fashion brands such as Chanel. Bouquet, who defines herself a "city girl," tells Waldin of her breakthrough in acting that happened when she was eighteen. Indeed, while attending the national school of acting in Paris, Bouquet was selected for Luis Bunuel's famous movie That obscure object of desire.
On the other hand, her forays into the wine world started when she turned forty and fell in love with Pantelleria, which she defines the "front door of Orient… but at the same time very Italian." Bouquet, who is very interested also in the history of viticulture and wine-making on the island, had always admired Pantelleria's landscape of terraced vineyards and its volcanic soil, to the point that she decided to put down roots there by gradually buying land. "I wanted a piece of land, and I never wanted that before, and I was 40 at that time," she tells Waldin, "I decided (because I am a real city girl) to put down roots in Pantelleria, as if I belonged there more than in any place in the world. Even though I was not Italian, that was my way—I am so in love with Italy!—to dare to say that I was Italian." Bouquet's winery, Sangue d'Oro, produces Passito di Pantelleria from Moscato di Alessandria grapes and was selected also by Wine Spectator for the OperaWine Grand Tasting 2018 in Verona, Italy. Listeners interested in discovering stories behind other producers of Sicilian wine can tune in to the series on Sicily.
In addition to famous wine producers, the Italian Wine Podcast also hosts key players in the wine business, and recently dedicated a series of podcasts to three influencer marketing projects that exploit the popularity of Instagram and other social media to promote wine. Waldin's interviews with Andrea Albagli (@cor_vino), Stefano Quaglierini (@italian_wines), and the @cantinasocial trio Adriano Amoretti, Matteo Franco, and John Murnane dig deeper into the field of influencer marketing for the wine sector and into their different approaches to digital communication. Currently every Tuesday the Italian Wine Podcast is broadcasting a series of podcasts on Sagrantino wine producers in Umbria; on Wednesday, Waldin meets other wine producers coming from all over Italy, in particular from wine regions such as Campania, Puglia, Sardinia.
The Italian Wine Podcast team recently launched a new interactive map of Italy that allows listeners to browse through the stories of Italian wine producers region by region. This digital map is available on the podcast website. By clicking on each Italian region, listeners are redirected to the stories of great wines and their producers grouped together according to their location in Italy. With around 300,000 companies involved in wine-making across Italy and with its biodiversity, the Italian wine world may seem difficult to decode at times. The digital map tool for podcasts helps locate producers and discover the regional attachments and affiliations of Italian wines.
About:
Italian Wine Podcast: Cin Cin with Italian Wine People! is a new podcast project dedicated exclusively to the Italian wine world. Wine writer Monty Waldin uncovers the unique Italian wine-making tradition in conversation with some of its key protagonists. Italian Wine Podcast aims to inform, educate, and entertain listeners about Italian wine. Italian Wine Podcast is available on SoundCloud, iTunes, XimalayaFM (for China) and on the official website.