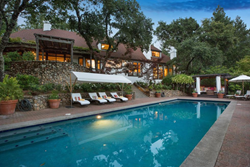 Where Real Estate Is Never Boring
POMPANO BEACH, Fla. (PRWEB) November 30, 2018
"Robert Redford's Wine Country Estate"
Not one of Hollywood's 'Ordinary People,' especially when it comes to super-star actor, director and supporter of the arts, Robert Redford recently celebrated his 82nd birthday and announced his retirement as an actor. His final film, 'The Old Man & His Gun' in which he stars with Sissy Spacek and Casey Affleck and plays a real-life career criminal was released in September to rave reviews.
For decades, Redford's permanent residence has been in Utah, home of his Sundance Institute. He and his artist wife, Sibylle Szaggars, also own a Napa Valley home where they enjoy hobbies and hosting family and friends. The Redfords have had the home for 14 years and have now decided to move back to the Bay Area near family and put the home on the market, priced at $7.5 million.
Redford's home, named Danza del Sol, lies perched on a knoll on 10 ultra-private acres surrounded by woods and vegetation with walking paths. The compound includes the main house, a 90-square-foot artist studio/guest house and two large garages. The 5,200-square-foot main house is modest by film mogul standards with three bedrooms, four bathrooms, a large great room, den, library-office, sunny white kitchen and formal dining room. Multiple wood-burning fireplaces exist throughout the home. The quaint studio/guest house has a huge open space filled with light from a wall of French doors and double garage door that rise high into the vaulted ceiling. One of the two garages houses a large workshop and exercise studio. Terraces by the pool, spa and outdoor dining areas offer calming views and are perfect for entertaining.
The Napa Valley estate of Robert Redford is now for sale upon his retirement. Priced at $7.5 million, the listing agent is Steven Mavromihalis of Pacific Union International, San Francisco.
Visit TopTenRealEstateDeals.com for more historic, spectacular and celebrity homes and real estate news.