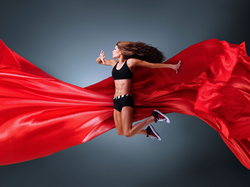 PHILADELPHIA (PRWEB) May 26, 2021
Powerhouse Gail Kasper is a motivational speaker, TV Host, emcee, author, business consultant, certified fitness trainer, creator, executive producer and writer of the fun and engaging Facebook Live eating competition and game show "The Great American Eat Off," where local celebrities compete with Gail to raise awareness for animal rescue and animal welfare through her foundation, Pawtographs.
Kasper would have been able to include on her resume her being the first female RING ANNOUNCER at the OFFICIAL CELEBRITY BOXING match between Lamar Odom and Aaron Carter at the Showboat Boardwalk Hotel in Atlantic City, NJ on June 11, 2021. Instead, Kasper is now in a race against time, fighting to get her job back, so she has launched her official online petition at Change.org – the full URL is: http://www.Change.org/TakeAStandWithGailKasper
There have been fewer than five women who have been hired to work as Ring Announcers at MMA or boxing matches around the world. GAIL KASPER would have been the first female Ring Announcer for OFFICIAL CELEBRITY BOXING.
For Kasper, this was the role of a lifetime. "It's not often you are approached for the perfect job and with my work both as a motivational speaker and television host, I knew it would be a win-win for both myself, Official Celebrity Boxing and all of the contenders. The fact that I would be pioneering for other women wanting to break into the world of professional ring announcing strengthened my purpose," Gail Kasper added.
Damon Feldman and the Official Celebrity Boxing group shared the momentous news on their Official Celebrity Boxing Facebook and Instagram accounts announcing Gail Kasper as the Ring Announcer for the June fighting event. The posts were made on February 24, 2021 and have been viewed by thousands of fans and are both still up. Links to the posts are available on the Change.org petition.
The fight card for the June 11, 2021 Official Celebrity Boxing match lists the two-time NBA Champion and Olympic star Lamar Odom vs. 90s Pop Star, Dancing with the Stars and Broadway performer Aaron Carter as headliners of the fight. Also scheduled to fight are social media/reality TV rivals Cisco Rosado vs Peter Gunz, and "Terrible" Tim Witherspoon vs. "Latin Lover" Hazel Roche and Wideneck vs. Drew Mournet who round out the list of scheduled fighters.
As the first Official Celebrity Boxing event scheduled since the lifting of Covid-19 restrictions, fan interest has been very high. All tickets, as well as the coveted $500 VIP tickets to the LIVE June 11 event, are already SOLD OUT. It was recently announced that the two-time Grammy award winner, Ice-T and his wife of 18 years, Coco, are set to host the event with Ice-T appearing ringside as the fight color commentator.
GAIL KASPER is turning to the internet and appealing to scores of fans of Celebrity Boxing, fans of MMA, UFC, and her fans with the launch of a petition on CHANGE.ORG to demonstrate just how serious she is, to show Official Celebrity Boxing just how much the fans WANT her to be the RING ANNOUNCER and to underscore that, as Gail Kasper would say, "I'm ready!"
ADDITIONAL INFORMATION ON CELEBRITY BOXING:
Regarded as the pioneer of modern-day celebrity boxing entertainment, Official Celebrity Boxing was founded by Damon Feldman in 2003. Damon, the son of renowned champion boxing trainer, Marty Feldman, continued the family tradition in boxing and competed as a middleweight – amassing a perfect 9-0 record. As he was en route to a championship title fight, Damon sustained a serious injury that ultimately ended his career in the ring. For nearly the past two decades, Mr. Feldman has cultivated, promoted and presented over 50 live celebrity entertainment events. Today, Official Celebrity Boxing stands as the industry's first, and foremost, celebrity boxing enterprise, consistently covered and promoted by major media outlets around the world. For more information on Official Celebrity Boxing: https://officialcelebrityboxing.com.
For more information and to sign GAIL KASPER'S petition, please go to CHANGE.ORG here: http://www.Change.org/TakeAStandWithGailKasper
ADDITIONAL INFORMATION ON GAIL KASPER
http://www.GailKasper.com
FB: @GailKasperFans || Twitter: @GailKasperFans || Instagram: @GailKasper
To set up a time to speak with Gail Kasper, for more information or asset requests and all other inquiries, contact:
PHILLIP NAKOV – Principal, City PR
phillip@cityprinc.com // 747.283.1007