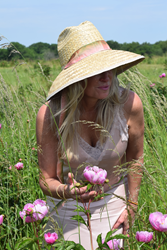 Timeless, and Elegant Style
FRANKLIN LAKES, N.J. (PRWEB) March 03, 2021
Celebrity and Personal Fashion Stylist Soneca Guadara now brings her creativity to light with the debut of her vintage inspired Sun Hats. This is Soneca's first introduction to the world of fashion design. What makes Soneca's Sun Hats stand out are her reversible vintage inspired ribbons, which look timeless, yet are modern all at the same time.
The Sun Hats come in two different shades and you can pick from four different ribbon choices that are reversible. Color choices are: Red Floral, Rose, Yellow Antique or Dusty Blue. The hats are lightweight and delicately woven from straw. Each hat has a 5' big brim for ultimate protection from the sun. Brass grommets are adorned on each side.
Guadara says " I have always loved wearing hats, not only does it protect you from the sun's harmful rays, as a stylist it's a great accessory to add to your wardrobe."
She adds " Women love to feel femine, beautiful and love everything that is associated with romanticism.
Soneca's hats have names such as the "Cosette" and "Bernadette", rich family names that define strong beautiful women of a timeless era. Therefore, the birth of "Soneca's - Chic Romantic Style Sun Hats" evolved. Marrying Romanticism with today's Modern Woman.
Soneca Guadara is based in the suburbs of New Jersey, only 30 minutes outside the hustle and bustle of New York City. Her clients range from Fortune 500 Entrepreneurs, TV Personalities such as Dolores Catania from the RHONJ, to your suburban housewife. All having one thing in common to look Beautiful and Confident .
Soneca is also a freelance fashion writer and on-air fashion and style correspondent. She has been featured on the Wendy Williams Show, to Univision, InStyle Magazine, Elle Italy, to the Huffington Post to name a few. Soneca is known for creating breakout fashion moments with her ability to make her clients transform into style mavens.
A self-described glamour girl, Soneca's inspirations vary from Old Hollywood to Contemporary Art to her love of Travel. Her signature derives from her meticulous attention to detail and in depth collaboration with her clients to help them create fashion moments that are timeless.
Follow Soneca on her Social Media Accounts : Linkedin: https://www.linkedin.com/in/soneca-guadara-2b70091a/
Instagram:https://www.instagram.com/styledbysoneca/