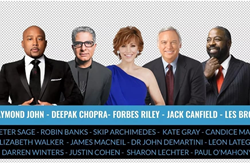 Some leaders are born women
TAMPA, Fla. (PRWEB) February 19, 2021
Celebrity TV Host and Transformational Success Coach, Forbes Riley has been called a Renaissance Woman and the female version of Tony Robbins for her ability to empower and inspire people to create success in their life and business. On Sunday, February 21, at 1:00 pm, Riley will take to the virtual stage as part of the 2021 slate of Real Summit Presenters in front of a worldwide audience to shine a spotlight on how anyone can make success happen both personally and professionally.
"Forbes empowers people to give them a vision of themselves beyond their circumstances; she is a voice of the future. She is such a powerful positive speaker and the voice of a generation. I believe in her." - Les Brown
The roster of speakers is an elite cast of presenters including spiritual guru Deepak Chopra, Motivational Speaker Les Brown, creator of the Chicken Soup for the Soul book series, Jack Canfield, Shark Tank's Daymond John, Sharon Lechter, John Demartini, Evan Carmichael and a dozen other professionals all working to bring cutting edge info on topics ranging from real estate and stocks, to personal development and wealth building. The lineup promises to educate and inspire a world shaken to its core during this COVID-19 pandemic.
Forbes Riley, one of the headliners, is a pioneer in the world of infomercials and home shopping sales around the globe, and known as the "Queen of Pitch", because sales from her healthy lifestyle products have generated more than $2.5 billion.
"I have known and worked with Forbes Riley for more than 20 years. Brilliant at teaching the "Art of the Pitch", she is a true leader and inspiration, and always one step ahead of the industry," says Shark Tank's Kevin Harrington.
In her Summit Talk, "Unlocking Clarity, Communications and Confidence" Forbes will focus on how her mantra of "You are the Sum of the Obstacles You Overcome" has propelled her through the decades in spite of the death of her parents, the murder of a boy she helped raise for 12 years as part of the Big Brother Program, to being one of the eyewitnesses who sadly recorded the tragic Las Vegas concert shooting on Oct. 1, 2017 from the balcony of the Foundation Room in the Mandalay Bay on her iPhone.
Today one of her main focuses is expanding her reach through online coaching and the power of Clubhouse to empower and uplift emerging entrepreneurs - men and women seeking to finding their purpose or perhaps people just looking for a side hustle so they can feed their family, take a vacation and build a life of their dreams. The ideas she presents are intended to shake your foundations to establish a clear blueprint for what the future holds and what you can achieve.
While the talks go on through the weekend, Forbes will be taking the stage right before Les Brown on Sunday, Feb. 21 at 1:00pm. Tickets are FREE, but limited and can be obtained at http://www.ForbesRileyLive.com.
About Forbes Riley
As a Celebrity TV Host, Best Selling Author, Podcaster and CEO of the LifeStyle Health & Fitness Brand, Forbes Riley speaks on stages around the world - moving and touching the hearts as well as minds of action-takers, emerging entrepreneurs, future leaders, and visionaries. Known as the "Queen of Pitch", she is a pioneer and industry icon in the field of infomercials and home shopping television, with product sales in excess of $2.5 billion.
From a career as a Broadway stage, TV and film actress to a diverse range of hosting jobs (LA's Comedy Club The Laugh Factory, Westwood One Radio's Show, Off the Record, ESPN's X-Games opposite Sports Center's Stuart Scott and even a dog game show on Animal Planet), the words "diverse" and "multi-talented" don't begin to do Forbes' talent justice. In 2010, she was inducted into the National Fitness Hall of Fame and is currently the CEO of a Health and Fitness Empire featuring her signature product, SpinGym.
Currently she is spearheading, the Billionaire Business Academy which offers trainings for all aspects of personal and professional development.
Diverse and dynamic, Forbes empowers, educates, and ignites people to take action and monetize their message. Activating behavioral changes, she shows us exactly how to define who we are in order to reach our personal and professional goals. From disrupting limiting beliefs to cultivating confidence, to mastering communication skills, to architecting actionable plans, Forbes helps people gain clarity in their lives while perfecting their message. She inspires greatness and prosperity and is the true embodiment of dreaming it, believing it, and achieving it.
Her Facebook page, http://www.facebook.com/forbesrileyfanpage, has topped 1.8 million followers and she already enjoys 21k followers on Clubhouse.
What is it called when you're at the pinnacle of your game and you've achieved your goals? In her words, you've Forbes'd it!
About Real Success Network
Since 2012, the REAL Success Network has operated based on core values of connection, learning and travel and been driven by a belief that many people's lives are so much more than they currently experience. Working with the best and most authentic teachers, coaches, and experts from around the world, like Dr. John Demartini, Sharon Lechter, Brian Tracy and Robin Banks, they strive to connect people to a path of self-improvement education and mentoring. http://www.ForbesRileyLive.com