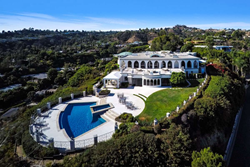 Pompano Beach, Florida (PRWEB) September 16, 2015
The longtime home of television legend and St. Jude Children's Hospital founder, Danny Thomas, is for sale and featured this week at TopTenRealEstateDeals.com.
"The Danny Thomas Mansion"
During the Golden Age of Television, no one was a bigger star than Danny Thomas. The comedian and philanthropist was the wise and occasionally bumbling father in the television series "Make Room for Daddy" that ran from 1953 to 1965. In the sitcom, Thomas appeared as a nightclub comedian and father who was always on the road playing in nightclubs, returning home to a family that was too accustomed to his absence. The sitcom was based so much on his own family life that his wife was the one who came up with the name for the show. Born in 1912 as Amos Muzyad Yakhoob Kairouz on a horse farm in Deerfield, Michigan of Lebanese immigrants, Danny began his show business career in Detroit in 1932 and by the 1950s was one of the world's most loved entertainers.
A staunch Roman Catholic, in his struggling days, Thomas vowed to St. Jude Thaddeus, the patron saint of hopeless causes, that if he showed him the path to success, he would create a shrine in his name. He kept that promise as the founder and benefactor of the St. Jude Children's Research Hospital in Memphis, Tennessee. Thomas spent much of his time raising money for the hospital, which he considered his most important accomplishment. "That's my epitaph," he said in a later interview. "It's right on the cornerstone: Danny Thomas, founder."
From his show business start in 1932 on "The Happy Hour Club," an amateur show on WMBC Radio in Detroit, to stand up comedy, to entertaining the troops during World War II, he returned after the war to be a film actor in Hollywood. Some of his films include "The Big City" in 1947, "Call Me Mister" in 1951, and the 1953 version of "The Jazz Singer." He then went to television with his trademark series and on to become a successful producer with several of TV's all-time hit shows: "The Andy Griffith Show," "The Dick Van Dyke Show" and "Mod Squad."
In the late 1960s, Danny bought approximately two and a half acres on a private promontory in Beverly Hills in Trousdale Estates. It wasn't until 1970 that he built the mansion with its Moorish flair. The 18,000-square-foot, eight-bedroom, 12-bathroom home has 360-degree views of all of Los Angeles. After Thomas died in 1991 and his widow passed away in 2000, his three children sold the property for $15 million.
The current owner, who has recently put it on the market, undertook a total restoration and renovation, bringing in French architect Jacques Garcia to freshen the decor by enhancing the Moorish design and adding $2.5 million of Baccarat chandeliers along with custom designed, hand-woven carpets that are included in the sale. Designer Garcia is well-known in Europe where he has done work for the Rothschilds, Versailles and the Louvre. Though there is no published price for the Beverly Hills mansion, local agents estimate the price at $135 million. The listing agent is Aaron Kirman of Aaroe Estates in Beverly Hills.
Visit TopTenRealEstateDeals.com for more celebrity, historic and spectacular homes.