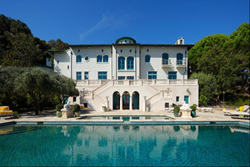 Pompano Beach, Florida (PRWEB) February 03, 2016
TenRealEstateDeals.com delivers the latest scoop on today's hot real estate news - celebrity, historic, famous and spectacular homes currently for sale.
According to the real estate website TopTenRealEstateDeals.com, the Napa Valley vineyard mansion that Robin Williams was trying to sell when he died has finally sold for $18.1 million.
"Robin Williams' Napa Estate"
When Robin Williams died in 2014, he left behind hundreds of friends, millions of fans, a long legacy of stand-up comedy, several classic movies and a home in the Napa Valley that has just sold after almost four years on the market. Robin built Villa Sorriso (Villa of Smiles) in the early 2000s while married to his second wife, Marsha Garces. They divorced in 2010 and he married Susan Schneider in 2011. With extensive marital debts and most of his big movie and television roles gone, Robin put the estate on the market in 2012 at $35 million. With no buyer, he took it off the market and relisted it several months later at $29.9 million. After his suicide in 2014, the home passed to his three children who lowered the price to $25.9 million and months later to $22.9 million. The vineyard estate recently sold for $18.1 million to French winemakers Alfred Tesseron and his niece Melanie Tesseron.
Villa Sorriso is located in the Mayacama Mountains, straddling the Napa and Sonoma Valleys, set majestically among 23 acres of vineyards and olive groves on 653 acres. Views over the valley are classic Napa and the land is blessed with a natural spring-fed fishing pond, groomed and landscaped grounds with tennis court, large infinity-edge pool, nine-stall horse barn and riding trails. There are over 100 olive trees which can produce 30-50 gallons of oil per year, approximately 18.4 acres of vineyards producing Cabernet Sauvignon, Merlot and Cabernet Franc wines. The three-level Mediterranean-style villa measures about 20,000 square feet with five bedrooms and eleven baths. It has a picturesque bell tower, a 12-seat theater, billiards room and climate-controlled cellars. The separate guest house includes four additional bedrooms.
Although Robin's estate sold at a substantial discount from the original $35 million list, the value of Napa area boutique vineyards has fallen after surging during the early 2000s. NFL Hall of Famer Joe Montana tried to sell his 9,700-square-foot Montana Villa estate with 17 horse stalls, olive tree farm, moat and drawbridge in 2009 for $49 million, later reduced to $35 million in 2011 and taken off the market in 2012. The Robert Mondavi 11,900-square-foot home on 53 acres with guest house, pool and tennis courts went on the market in 2010 at $25.9 million but didn't sell, eventually going to auction where it sold for less than the reserve price of $13.9 million.
The Tesserons own and operate Château Pontet-Canet, a vineyard and winery in the Bordeaux region of France. With today's trend of natural wine growing, the family turned their French vineyard into an organic operation using biodynamics from the 1920's agricultural lectures of Rudolf Steiner. This more traditional method of wine making includes working the vines with horses instead of tractors and controlling pests without chemicals. With such huge success in France, it is likely they will go the same route with Villa Sorriso.
Robin Williams' Napa vineyard retreat has sold for $18.1 million. The listing agents were Joyce Rey and Cyd Greer of Coldwell Banker Previews International.
Visit TopTenRealEstateDeals.com for more famous, spectacular and celebrity homes and real estate news.