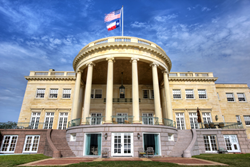 Pompano Beach, Florida (PRWEB) November 09, 2016
Real estate news in Texas, California, Florida and New York.
"Texas White House Going To Auction"
A 21,000-square-foot, 34-room White House replica near Houston is going to auction. The home was built by former Texas Governor Ross S. Sterling in 1927 who, according to legend, used a $20 bill as the White House model. Sterling lived in the home until the 1940s. It was recently listed for $5.95 million.
"Sinatra's Rat Pack Home Is For Sale"
Frank Sinatra's longtime home in Palm Desert, California is for sale at $3.9 million. The current owner's family were Sinatra friends and the only occupants since he lived in the home. Sinatra built the home on five acres 4,300 feet above Palm Springs and named it "Villa Maggio" after his character in the film "From Here to Eternity."
"Amy Schumer's New Penthouse"
Amy Schumer recently purchased a five bedroom, $12.15 million penthouse in New York City's Upper West Side. Amy was born and has spent most of her life in New York, where her father owned a baby furniture company.
"Tom Cruise's Scientology Penthouse"
According to several media sources, a two-story penthouse in Clearwater, Florida is being developed as the future home of Tom Cruise. Clearwater is the world Scientology headquarters.
"A Free Night with Dracula"
Airbnb is giving away a free night at Bran Castle, which may have been the inspiration for Dracula's castle.
Visit TopTenRealEstateDeals.com for more celebrity homes and real estate news.