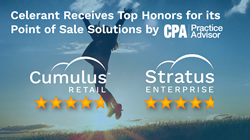 "This review is evidence in our ability to anticipate new challenges, and help our retail clients maximize business growth through our innovative point of sale and eCommerce solutions."
STATEN ISLAND, N.Y. (PRWEB) July 21, 2020
Celerant Technology, the #1 provider of innovative retail solutions, today announced that its point of sale software solutions, Cumulus Retail and Stratus Enterprise, both received top honors from CPA Practice Advisor. For 4 years in a row, Celerant has ranked high on this prestigious list which reviews point of sale systems based on innovation, functionality, price and support.
"With competition from various payment processing apps, point of sale vendors have had to step up their game in recent years," said Mary Girsh-Bock, contributing writer for CPA Advisor.
Celerant was awarded for both its point of sale software solutions- Cumulus Retail™, an affordable and powerful POS and eCommerce solution for small business; and Stratus Enterprise™; a custom omnichannel platform with real-time integration. Both solutions enable retailers to manage all aspects of their business in a single system by combining in store and online operations, marketing automation, industry-specific functionality and best practices.
"Celerant's [retail software] is completely customizable for each industry, and offers complete flexibility when processing sales via register or mobile", stated Girsh-Bock. "Celerant offers excellent inventory and warehouse management, and has an excellent CRM that can be used for memberships and buying clubs, loyalty programs, and the ability to create targeted coupons and promotions for customers based on prior sales. The solution is packed with additional features including custom eCommerce, email marketing, order fulfillment, vendor management, and online marketplace integrations."
"One of a retailer's biggest nightmares is to find that their entire point of sale system is down," stated Girsh-Bock… "Celerant's 'Always On' feature ensures point of sale functionality will remain operational, even when an Internet connection is lost." Celerant also offers "complete phone, live chat, and email support; training videos and a support portal for easy communication."
To view Celerant's 2020 CPA Practice Advisor reviews, visit:
Stratus Enterprise: http://www.cpapracticeadvisor.com/reviews/review/21143996/2020-review-of-celerant-stratus-enterprise-point-of-sale
Cumulus Retail: http://www.cpapracticeadvisor.com/reviews/review/21143998/2020-review-of-cumulus-retail-point-of-sale
"We thank CPA Practice Advisor for taking the time to evaluate and provide such a comprehensive review of our POS software," said Ian Goldman, President and CEO at Celerant Technology. "This review is evidence in our ability to anticipate new challenges, and help our retail clients maximize business growth through our innovative point of sale and eCommerce solutions."
About Celerant Technology
Founded in 1999, Celerant provides innovative, multi-channel retail commerce solutions and expert consulting to mid-market retailers across all industries. Celerant is ranked as the #1 retail software provider, and has been recognized as a top-five vendor for the past eleven consecutive years on the RIS Software LeaderBoard. Celerant supports retailers through point of sale, inventory management, eCommerce, vendor integrations and 'endless aisle', marketplace integrations, curbside pickup technology, CRM and shopper incentives, ERP, email marketing and more. To learn more, subscribe to our blog- https://www.celerant.com/blog.
About CPA Practice Advisor
CPA Practice Advisor's mission is to serve, inform, educate and lead tax and accounting professionals in the areas of technology, workflow systems and best practices so their firms can become more efficient, productive and profitable. For more information, please visit https://www.cpapracticeadvisor.com.