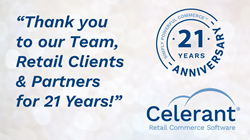 "Over this past year, I am especially proud of the hard work and dedication of our employees. As a team, we pivoted quickly and developed newer technology to ensure our retail clients can continue moving forward during one of the most challenging times the industry has faced."
STATEN ISLAND, N.Y. (PRWEB) October 14, 2020
Celerant Technology, the #1 provider of innovative retail software, is excited to be celebrating its 21st anniversary today. Over the years, Celerant has been able to help both startup and enterprise retail businesses maximize growth and efficiency by developing the industry's most comprehensive retail commerce software.
Together, brother's Ian Goldman, President and CEO of Celerant, and Robert Goldman, Vice President and CTO of Celerant, built the company from the 'ground up'. During a time when the Internet was just taking off, the company was founded to help retailers expand past their storefront; and manage every aspect of their business by developing one of the first real-time, omnichannel retail systems. In addition to being an early provider of integrated eCommerce, Celerant's point of sale solution allowed retailers to manage inventory and fulfill online orders from their store locations before 'omnichannel fulfillment' was even a buzzword.
"As a company, we have always provided the technology retailers need to overcome any challenge the industry throws at them," stated Ian Goldman. "Over this past year, I am especially proud of the hard work and dedication of our employees. As a team, we pivoted quickly and developed newer technology to ensure our retail clients can continue moving forward during one of the most challenging times the industry has faced. We thank all our employees; along with our partners and retail clients for their commitment and dedication."
Reflecting on the past 21 years, Robert Goldman said, "It is gratifying to see how much our company has grown in size and experience over the years; and to also see so many of our retail clients grow with the help of our solutions."
To learn more about Celerant, please visit http://www.celerant.com, and subscribe to our YouTube channel at http://www.youtube.com/CelerantTechnology.
About Celerant Technology
Celerant Technology is an innovative retail software provider enabling retailers to expand their businesses past their physical storefronts' and into the online world. Topping the RIS LeaderBoard for 15 years in-a-row, Celerant supports retailers through point of sale, inventory management, customer relationship management, promotions and loyalty rewards, eCommerce, distributor integrations, marketplace integrations, full-service digital marketing, and more. To learn more, subscribe to our blog- http://www.celerant.com/blog.