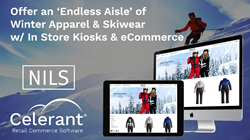 "We are looking forward to using NILS' data feeds with our Celerant website to offer wider product lines online, while NILS drop ships our orders directly to our customers!"
STATEN ISLAND, N.Y. (PRWEB) October 29, 2020
Celerant Technology, the #1 provider of innovative retail solutions, today announced an expansion of its current integration with NILS, a designer and distributor of fine winter apparel and skiwear. The new integration enables retailers and ski resorts to carry an endless aisle of products through Celerant's in store kiosks and eCommerce platform, so shoppers can browse and order inventory beyond what the store currently has in stock.
"Celerant has been our retail software provider and partner for almost 10 years, allowing us to manage our entire business with one system; both in our stores and online," said Gordon Geiger, Co-owner of Geiger's. "Celerant continues to offer newer technology to help our retail business be more competitive, and this new integration with NILS is no exception. We are looking forward to using NILS' data feeds with our Celerant website to offer wider product lines online, while NILS drop ships our orders directly to our customers!"
Celerant's point of sale system previously offered the ability to browse and import products from NILS catalog, which consists of fine winter apparel and skiwear for women, including jackets, ski suits, sweaters, leggings, hats, headbands and more. The integration was recently expanded to include NILS' live vendor feeds. By pulling these data feeds, NILS products can be displayed on Celerant's eCommerce websites and touchscreen kiosks in real-time– complete with product descriptions, images and stock levels. Leveraging this technology, retailers can launch a website easier and start selling online quickly; and widen their product lines in store and online. With Celerant's existing drop shipping capabilities with NILS, orders can be drop shipped directly to the consumer, or delivered to the store (or resort) for pickup– enabling retailers to sell more with less effort.
"Last winter we integrated with NILS to provide retailers with the ability to import product catalogs, as well as drop ship winter apparel, directly to consumers," said Zeke Hamdani, Director of Web Services at Celerant Technology. "This year, as eCommerce becomes more important than ever before, we expanded the integration to offer NILS live vendor feeds so retailers can gear up for the season with a more competitive selection of online products. Retailers can now offer and sell so many more winter products without having to invest in, or stock additional merchandise."
Celerant's point of sale and eCommerce solutions
Celerant offers two retail solutions that integrate with NILS- Cumulus Retail™, an affordable and powerful point of sale and eCommerce solution for small business; and Stratus Enterprise™, a custom omnichannel commerce platform with advanced features. To learn more about Celerant's integration with NILS, please visit: http://www.celerant.com/partner/nils.
About Celerant Technology
Celerant Technology is an innovative retail software provider enabling retailers to expand their businesses past their physical storefronts' and into the online world. Topping the RIS LeaderBoard for 15 years in-a-row, Celerant supports retailers through point of sale, inventory management, promotions and loyalty rewards, distributor integrations, curbside pickup, eCommerce, marketplace integrations (i.e., Amazon, eBay, Walmart, Facebook), integrated email marketing and more. To learn more, subscribe to our blog- http://www.celerant.com/blog.
About NILS
NILS has offered 38 years of uncompromising style and performance in the ski and resort wear industry. The focus on fit, fashion and functionality is as important to us as it is to our customers. From eco-friendly tencel base layers, to ultra-luxe down jackets, NILS has women covered from the slope to the street. NILS is pleased to offer the finest, best fitting ski wear and resort sportswear along with setting the standard for customer service and education within the snow sports industry. For more information, visit http://www.nils.us.