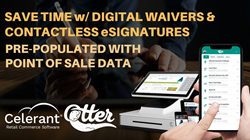 We are committed to giving business owners the freedom to run their business more efficiently, and we believe our integration with Celerant will empower Celerant's retail clients to hit their targets and increase customer retention by simplifying the waiver process
STATEN ISLAND, N.Y. (PRWEB) November 18, 2021
Celerant Technology, a leading provider of retail software, today announced a partnership with Otter Waiver, an innovative digital waiver and eSignature system. Through an integration with Celerant's point of sale, retailers can automatically generate liability waivers that customers can complete online or on a kiosk with contactless eSignatures, and send triggered SMS text messages- to save time, and increase customer retention.
"Partnering with Celerant is exactly what was needed to help the retailers grow their business and provide exceptional customer service," stated Ben Nelson, CEO of Otter Waiver. "We are committed to giving business owners the freedom to run their business more efficiently, and we believe our integration with Celerant will empower Celerant's retail clients to hit their targets and increase customer retention by simplifying the waiver process."
Celerant's all-in-one retail software enables retailers to manage their entire business in a single place–in store, online, inventory, pricing and promotions, loyalty rewards, memberships and more. By integrating with Otter Waiver, retailers can easily create and manage liability waivers for ranges, courses, events, facility or property usage, shipping and more. Waivers are pre-populated with customer data pulled from Celerant's back-office software, and automatically reflect any changes to the data– expediting the check-in process and reducing data errors. Users can sign waivers on a tablet-kiosk at the point of sale, and will soon be able to access and sign waivers directly on the retailer's website using contactless eSignatures.
Otter Waiver's platform offers a simple, user-friendly solution to help keep customers by streamlining the waiver process. Based on industry best practices, Otter is the only waiver software compliant with eSign in 20+ countries, built to meet stringent privacy, compliance, and security standards. Retailers can sign up and get started in less than 10 minutes using their easy-to-use waiver builder and simple messaging system (SMS) tools for customer retention.
"Celerant has worked hard over the past year to enhance the range experience for retailers and their customers," stated Ian Goldman, President, and CEO of Celerant Technology. "We recently introduced range enhancements, new automated SMS text messaging that can send alerts, such as reminders, exceeded allotted time, and other triggers defined in the software, and more. The addition of Otter Waiver will help our retail clients further enhance scheduling, save time, and increase customer retention."
Learn more and get started with Celerant's retail software and Otter Waiver by visiting http://www.celerant.com/otterwaiver.
About Otter Waiver
Otter Waiver is an innovative digital waiver and participant management software, designed specifically for the outdoor industry and other retail businesses. Our online waiver system is simple to use, flexible, and affordable for retailers of all sizes; and is the first outdoor online waiver software that follows the ESIGN Act and Uniform Electronic Transactions Act (UETA). Otter keeps retailers' eSign compliant and helps them market to customers through a simple messaging system (SMS) with ease. For more information, visit http://www.otterwaiver.com.
About Celerant Technology
Celerant Technology is an innovative retail software provider enabling retailers to expand their businesses past their physical storefronts' and into the online world. Topping the RIS LeaderBoard for 15 years in-a-row, Celerant supports retailers through point of sale, inventory management, promotions and loyalty rewards, eCommerce, mobile apps, vendor integrations, marketplace integrations (i.e., Amazon, eBay, Walmart, Facebook), integrated email marketing and more. To learn more, subscribe to our blog- http://www.celerant.com/blog.