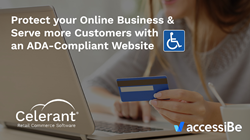 "With more customers shopping online, our goal was to find a solution that allows our retail clients to comply, and continue to comply regardless of how many ongoing changes they make to their sites, without any additional effort on their part"
STATEN ISLAND, N.Y. (PRWEB) July 16, 2020
Celerant Technology, a leading provider of innovative retail solutions, announce today a partnership with accessiBe, the #1 web accessibility solution for Americans with Disabilities Act (ADA) and Web Content Accessibility Guidelines (WCAG) compliance. Together with accessiBe, Celerant offers a powerful eCommerce solution to help retailers maintain ADA compliance online, which is both affordable and easy to implement.
In recent months, more consumers are shopping online than ever before. With an increase in online shopping, ensuring eCommerce sites are fully accessible to people with disabilities is becoming increasingly important for retailers. Website accessibility not only protects online businesses legally, it enhances the businesses' reputation and boosts sales by enabling retailers to serve people with a large demographic of shoppers that require additional assistance.
How it works
Celerant's two eCommerce solutions integrate with accessiBe– Cumulus eCommerce™, an affordable and powerful website for small business; and Stratus eCommerce™, a comprehensive platform with high-end capabilities. Through the integration, shoppers with various disabilities can easily adjust settings so they can comfortably browse, interact and purchase products online. The tool provides screen readers for the blind; TAB key navigation for those with motor impairments; font/color adjustments for the visually impaired; controls for animations that can trigger epileptic seizures; and much more. Through AI-powered machine learning, the solution continuously helps to ensure retailers are in compliance, while enhancing the online experience for shoppers.
"With more customers shopping online, our goal was to find a solution that allows our retail clients to comply, and continue to comply regardless of how many ongoing changes they make to their sites, without any additional effort on their part," said Zeke Hamdani, Director of Web Services, Celerant Technology. "accessiBe provides exactly that. The solution is easy to implement, it's affordable and helps online retailers mitigate the risk of lawsuits. But most importantly, it enables our clients to provide a better online shopping experience to those with disabilities."
To learn more about Celerant's integration with accessiBe, please visit https://www.celerant.com/partner/accessibe. Celerant also integrated accessiBe directly on the company website (celerant.com).
About Celerant Technology
Founded in 1999, Celerant provides innovative, multi-channel retail commerce solutions and expert consulting to mid-market retailers across all industries. Celerant is ranked as the #1 retail software provider, and has been recognized as a top-five vendor for the past eleven consecutive years on the RIS Software LeaderBoard. Celerant supports retailers through point of sale, inventory management, eCommerce, vendor integrations and 'endless aisle', marketplace integrations, curbside pickup technology, CRM and shopper incentives, ERP, email marketing and more. To learn more, subscribe to our blog- https://www.celerant.com/blog.
About accessiBe
accessiBe founders are veterans of software and marketing web agencies and started working on the project in 2016 when laws and legislations that mandated the promotion of web accessibility started to spread. Starting 2019, the company has expanded its reach in the U.S. and other countries following insistent customer demand. For more information, visit: https://www.accessibe.com.