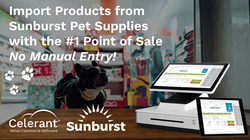 "Through the integration, retailers can ensure their stores shelves are well stocked with a wide selection of healthy pet food and supplies. With our integrated eCommerce, pet stores can also quickly launch a website, and serve customers online with same day pickup."
STATEN ISLAND, N.Y. (PRWEB) November 18, 2020
Celerant Technology, the #1 provider of innovative retail software, today announces an integration with Sunburst Pet Supplies, a service-focused distributor offering regularly scheduled delivery to pet specialty retailers across the state of Arizona. Through Celerant's point of sale, local pet stores can quickly and easily import products, streamline inventory, and manage product data across all retail channels.
Offer a wide variety of healthy pet products in store through Celerant's point of sale, retailers can browse Sunburst's catalog, and import the products they want to sell, including product names and descriptions. Sunburst's catalog consists 1000s of products from carefully-selected brands that offer the worlds' healthiest pet food, such as Bocce's Bakery, Carna4, Diggin' Your Dog, Earth Animal, Fromm, NutriSource, Stella and Chewy's, The Honest Kitchen, SquarePet, Weruva B.F.F Cat Food and more. This enables retailers to quickly build and maintain their retail database with quality products, and leverage Celerant's purchase order module to reorder inventory.
"We are excited to partner with Celerant," said Leah Martin, Director of Operations of Sunburst Pet Supplies. "Celerant puts the retailer first. They do all of the hard work so that the integration is seamless."
Strength your pet retail business in store and online Celerant's point of sale software enables brick-and-mortar retailers to display product data and manage orders across multiple retail channels, including Celerant's eCommerce platform, and online marketplaces such as Amazon, Walmart and eBay- all in a single place, in real-time. By using a centralized retail system, pet shop retailers can expand past their storefront; and manage their entire business- in store and online- within a centralized system, while ensuring data consistency across all channels. With Celerant's point of sale, pet stores can also help customers anywhere, including curbside, with mobile processing; offer discounts and promotions; manage rebates through an integration with ASTRO Loyalty; and schedule classes for pet training and care.
"Our partnership with Sunburst Pet Supplies allows pet stores to better serve customers in store and online," said Ian Goldman, CEO and President of Celerant Technology. "Through the integration, retailers can ensure their stores shelves are well stocked with a wide selection of healthy pet food and supplies. With our integrated eCommerce, pet stores can also quickly launch a website, and serve customers online with same day pickup."
Celerant offers two retail solutions that integrate with Sunburst Pet Products- Cumulus Retail™, an affordable and powerful point of sale and eCommerce solution for small business; and Stratus Enterprise™, a comprehensive retail commerce software with high-end capabilities. For more information, please visit http://www.celerant.com/sunburst-pet-supplies.
About Celerant Technology
Founded in 1999, Celerant provides innovative, multi-channel retail commerce solutions and expert consulting to mid-market retailers across all industries. Celerant is ranked as the #1 retail software provider, and has been recognized as a top-five vendor for the past eleven consecutive years on the RIS Software LeaderBoard. Celerant supports retailers through point of sale, inventory management, eCommerce, vendor integrations and 'endless aisle', marketplace integrations, CRM and shopper incentives, ERP, email marketing and more. To learn more, subscribe to our blog- http://www.celerant.com/blog.
About Sunburst Pet Supplies
Sunburst Pet Supplies is family owned and operated. Having been in business since 1984, we are dedicated to the growth and success of the pet specialty retailer. We pride ourselves with the relationships that we have developed with retailers and vendors who share our commitment to offering quality products and services. Sunburst Pet Supplies is a service focused distributor offering regularly scheduled delivery to pet specialty retailers across the state of Arizona. We are committed to carrying only the highest quality products in the marketplace. It is our desire to partner with manufacturers who share our commitment to protect and ensure the success of the independent retailer. For more information, visit https://sunburstpetsupplies.com.