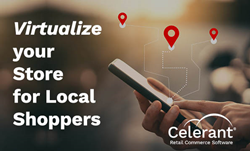 "It's a quick way to use your stores' real-time product data online to enable customers to purchase items from their local store, virtually, just as they would in your physical store; and streamline same day pickups; all with no additional effort on the retailer's part."
STATEN ISLAND, N.Y. (PRWEB) May 21, 2020
Celerant Technology, a leading provider of innovative retail solutions, today announce a new online platform for multi-store retailers that virtualizes their physical stores. The platform quickly creates a virtual store based on inventory at each individual store, and simplifies same day curbside and in store pickup.
Celerant's Virtual Store™ allows multi-store retailers to quickly create a virtual showcase of products for each individual store, displaying only the products that are currently in stock at that store. The virtual store automatically pulls product data, in real-time, from the retailer's point of sale database from that store; and displays those products online, instantly, based on the retailer's department structure. For retailers that already have an eCommerce site, the associated product images are then pulled from their eCommerce platform. Shoppers can select the store closest to them, view the virtual showcase and purchase products currently available at that location; and select in store or curbside pickup.
"We developed the virtual store to help retailers sell more products locally, especially during a time when customers can't visit their physical stores," states Zeke Hamdani, Director of Web Services, Celerant Technology. "It's a quick way to use your stores' real-time product data online to enable customers to purchase items from their local store, virtually, just as they would in your physical store; and streamline same day pickups; all with no additional effort on the retailer's part."
Celerant's Virtual Store – Features & Functionality
Celerant's Virtual Store integrates with Celerant's retail solutions- Cumulus Retail™, an affordable and powerful SaaS solution for small business; and Stratus Enterprise™, a real-time onmichannel commerce platform. The virtual store displays all products within the point of sale database at that physical location, including product name, on-hand quantities, price and SKU; along with product images and descriptions from their eCommerce platform. The virtual store includes an online shopping cart, accepts multiple payment types and calculates sales tax based on the state/county of each physical store.
For retailers who already have eCommerce, an option is available on their homepage to allow shoppers - within a specified distance from your brick-and-mortar store, based on their IP address - to search and select the store location closest to them for same day pickup.
For retailers who do not already have eCommerce, the Virtual Store can be used to promote products to their local communities via social media, email marketing and more. Product images can be taken from their smart phones, and easily uploaded directly into the Virtual Store. "This can be a great time for store associates to use their downtime to capture images to enhance their virtual store now, while also building the foundation for a future eCommerce website," explains Hamdani.
During the checkout process, customers can select same day 'curbside pickup' or 'in store pickup', if the store is open. The order is then placed into Celerant's Curbside Application™, where the retailer can track and communicate the status with the customer via text messaging. For curbside pickups, when the customer arrives, they can alert the store's associates by clicking a link within the text message.
In an upcoming release, Celerant's Virtual Store will allow the retailer to know exactly which product and webpage shoppers are viewing, in real-time; and provide assistance and suggest upsell items, virtually, through a proactive live chat feature. "More than a live chat, retailers can initiate a virtual conversation with the shopper to assist, just as they would normally do in person," mentions Hamdani.
For more information about Celerant's Virtual Store, or to download the infographic, please visit http://www.celerant.com/virtual-store
About Celerant Technology
Founded in 1999, Celerant provides innovative, multi-channel retail commerce solutions and expert consulting to mid-market retailers across all industries. Celerant is ranked as the #1 retail software provider, and has been recognized as a top-five vendor for the past eleven consecutive years on the RIS Software LeaderBoard. Celerant supports retailers through point of sale, inventory management, eCommerce, vendor integrations and 'endless aisle', marketplace integrations, CRM and shopper incentives, ERP, email marketing and more. To learn more, subscribe to our blog- http://www.celerant.com/blog.