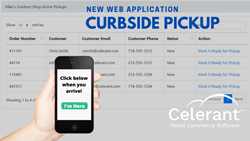 "At Celerant, we quickly shifted resources and are creating technology that we see our retail clients need now. Our new curbside pickup application will benefit retailers immediately, and also in the long-term, beyond Coronavirus, as consumer delivery needs are changing"
STATEN ISLAND, N.Y. (PRWEB) April 21, 2020
Celerant Technology, a leading provider of innovative retail solutions, today announces a new Curbside Pickup Web Application for retailers. The new web-based application enables retail stores to streamline the process of curbside pickup, making it easier for both the retailer and the shopper, while reducing the risk of spreading COVID-19 with 'contactless' delivery.
In recent weeks, curbside pickup has been an increasingly popular checkout option for retailers across the country. Though not a new fulfillment method, many retailers are facing challenges integrating curbside pickup, especially with limited staff and a surge of online orders. Celerant's new curbside pickup technology solves that problem; it allows retailers to organize and streamline the curbside pickup process of online orders, and cuts down on long delivery times.
Celerant's Curbside Pickup Web Application integrates with Celerant's eCommerce solutions - Cumulus eCommerce™, an affordable and powerful website for small business; and Stratus eCommerce™, a comprehensive platform with high-end capabilities. After a local customer places an order online, they can select 'curbside pickup' and enter their mobile phone number at checkout. When their order is ready for pickup, the customer receives a text message with the designated place of pickup (store's curb, parking lot, etc.). When the customer arrives, they click a link within the text message to inform the store they arrived. At that time, the store's associate immediately receives an alert on the web application, accessible on their mobile phone or tablet, and can then meet their customer outside to deliver the package, contactless.
"The impact of COVID-19 hit retailers quickly, and as such, most retailers were not prepared," said Ian Goldman, CEO and President of Celerant Technology. "At Celerant, we quickly shifted resources and are creating technology that we see our retail clients need now. Our new curbside pickup application will benefit retailers immediately, and also in the long-term, beyond Coronavirus, as consumer delivery needs are changing."
COVID-19 resources for retailers
Celerant has created a Covid-19 resource page for retailers, including blogs, a recorded webinar and partner resources, and more, to help retailers adapt to these challenging times - http://www.celerant.com/coronavirus-and-retail/.
About Celerant Technology
Founded in 1999, Celerant provides innovative, multi-channel retail commerce solutions and expert consulting to mid-market retailers across all industries. Celerant is ranked as the #1 retail software provider, and has been recognized as a top-five vendor for the past eleven consecutive years on the RIS Software LeaderBoard. Celerant supports retailers through point of sale, inventory management, eCommerce, vendor integrations and 'endless aisle', marketplace integrations, CRM and shopper incentives, ERP, email marketing and more. To learn more, subscribe to our blog- http://www.celerant.com/blog.