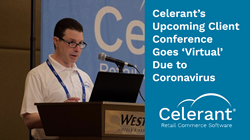 "While we will miss the face-to-face interaction this year, we are confident that by hosting our event virtually, clients will still benefit from our training and break-out sessions, and learn about new partner integrations, as well the new features within our latest software versions."
STATEN ISLAND, N.Y. (PRWEB) March 13, 2020
Celerant Technology, a leading provider of innovative retail solutions, has made the decision to cancel its annual client conference and turn it into a virtual event, due to concerns over the spread of the Coronavirus, COVID-19.
Celerant's 2020 client conference, originally slated to take place April 26-28 in San Antonio at Hotel Contessa, will now be made available to clients virtually, through an online event. The conference will be held as an online virtual event during the same week as the originally planned physical conference.
"The decision to cancel our physical event wasn't easy; the safety and well-being of our employees, clients and partners is our main concern," stated Ian Goldman, President and CEO of Celerant Technology. "While we will miss the face-to-face interaction this year, we are confident that by hosting our event virtually, clients will still benefit from our training and break-out sessions, and learn about new partner integrations, as well the new features within our latest software versions."
Celerant is currently coordinating efforts for this change in plans, and will send out additional details to clients as they become available.
About Celerant Technology
Founded in 1999, Celerant provides innovative, multi-channel retail commerce solutions and expert consulting to mid-market retailers across all industries. Celerant is ranked as the #1 retail software provider, and has been recognized as a top-five vendor for the past eleven consecutive years on the RIS Software LeaderBoard. Celerant supports retailers through point of sale, inventory management, eCommerce, vendor integrations and 'endless aisle', marketplace integrations, CRM and shopper incentives, ERP, email marketing and more. To learn more, subscribe to our blog- http://www.celerant.com/blog.