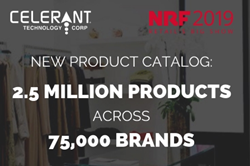 "The catalog will benefit both startup retailers that carry limited brands and have limited internal resources; and more experienced retailers looking to increase their product offering. Our goal is to compile the largest and most diverse online catalog that the retail industry has ever seen."
Staten Island, NY (PRWEB) January 12, 2019
Celerant Technology, a leading provider of retail management solutions, today announced that the company will unveil its new Product Catalog at NRF 2019, Retail's Big Show. With Celerant's new Product Catalog, retailers– across multiple verticals, including apparel, footwear, sporting goods, electronics, hardware, gift shops and others– can view and import thousands of products from well-known brands from within Celerant's retail solutions.
View & import millions of UPC's from Celerant's new Product Catalog
Celerant offers two retail solutions - Stratus Enterprise™, a comprehensive and customizable solution integrating all channels in real-time; and Cumulus Retail™, an affordable and scalable SaaS point of sale with eCommerce. Celerant's new Product Catalog, which is available for both of Celerant's retail software solutions, is comprised of more than 2.5 million products, with over 4 million unique Universal Product Codes (UPCs), from over 75,000 well-known brands across multiple retail verticals, including Adidas, Burberry, Colgate, Fisher-Price, IBM, Lucky Brand, Michael Kors, Nike, Panasonic, Ralph Lauren, Samsung, Team Golf, Under Armour, amongst many others. The Product Catalog contains current product lines from each brand with comprehensive product data, including the name, description, image, UPC and MSRP.
With Celerant's online Product Catalog, retailers can quickly search products by multiple departments and by multiple brands simultaneously, and view the items available to import into their Celerant retail system. With an Advanced Search option, retailers can also search by specific brands, products or UPC.
Create orders based on new products within the Product Catalog
Through Celerant's Product Catalog and retail system, retailers can effortlessly enrich their product database by accessing and importing thousands of products in real-time, including items they don't currently carry; and easily create special orders for customers looking for those products. By searching through Celerant's Product Catalog, the retailer can view the item, its details and product image; confirm the specific product with their customer; and import the product into the point of sale database. Once the product is imported, the retailer can, from within the point of sale, create a special order for their client, and order the product by creating and sending a purchase order to the distributor.
"With Celerant's new product catalog, our retail clients can quickly and easily expand their product database without manually entering the products," said Ian Goldman, President and CEO of Celerant Technology. "The catalog will benefit both startup retailers that carry limited brands and have limited internal resources; and more experienced retailers looking to increase their product offering. Our goal is to compile the largest and most diverse online catalog that the retail industry has ever seen."
Visit Celerant at the NRF Show
To kick off the start of its 20th year serving the industry, Celerant will showcase its premier solution, Stratus Enterprise, along with their new Product Catalog, at the NRF Show in January 2019. To learn how our innovative technology can improve your retail business, visit Celerant at the NRF Show, Booth #2373; or click https://www.celerant.com/nrf/.
About Celerant Technology
Celerant Technology is a retail technology provider offering unparalleled and seamless multi-channel integration to retailers across all industries. Since 1999, Celerant has consistently accelerated business growth and efficiency through unique innovations such as POS, inventory management, mobile applications, advanced analytics, integrated E-Commerce, digital marketing and marketplace integrations – to name a few. With an open and collaborative environment, the company focuses on each retailer's specific integration needs to form genuine, enduring partnerships. As a mid-market retail system leader, Celerant provides solutions and expert advice to continually accelerate retail growth. To learn more, subscribe to our blog- http://www.celerant.com/blog.
About The National Retail Federation (NRF)
The National Retail Federation is the world's largest retail trade association. Based in Washington, D.C., NRF represents discount and department stores, home goods and specialty stores, Main Street merchants, grocers, wholesalers, chain restaurants and internet retailers from the United States and more than 45 countries. Retail is the nation's largest private-sector employer, supporting one in four U.S. jobs — 42 million working Americans. Contributing $2.6 trillion to annual GDP, retail is a daily barometer for the nation's economy. https://www.NRF.com