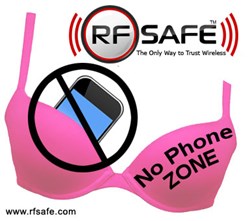 Imaging of the young girls' breasts revealed a clustering of multiple tumor foci in the part of the breast directly under where their cell phones touched their body.
San Francisco, CA (PRWEB) February 19, 2014
RF Safe claims a research team, led by Dr. Lisa Bailey, and one of California's top breast surgeons, studied four young women – aged from 21 to 39 years old – with multifocal invasive breast cancer that appears to be caused from cell phone radiation exposure.
Researchers observed that all the patients developed tumors in areas of their breasts next to where they carried their cell phones. None of the patients had a family history of breast cancer.
They all tested negative for BRCA1 and BRCA2 – breast cancer genes linked to about one-half of breast cancer cases – and they had no other known breast cancer risks. Case Reports in Medicine Volume Sept 2013 http://www.hindawi.com/crim/medicine/2013/354682/
RF Safe wants to remind everyone that just putting a cell phone out of sight - please don't take it out of mind. Even when it's not in use, a cell phone is actively searching for cell phone towers to stay connected to the network using microwave radiation which can penetrate deeply into soft tissues of breast when carried in a bra or kidneys, liver, reproductive organs and even fetal development when carried in a pocket.
RF Safe cell phone flip case radiation shields, pocket shields and pink purse shields block microwave radiation the same way as the screen in the front of a microwave oven, which deflects cell phone radiation away from cell phone users. By simply keeping the RF shielding between the cell phone and user, the radiation is deflected safely away.
About Radio Frequency Safe – RFSAFE.COM
RF SAFE is the world's premier provider of cell phone radiation protection accessories and informational data. Since 1998 RF (Radio Frequency) Safe has been dedicated to evolving the wireless industries safety standards, by engaging in the business of design, testing, manufacture, and sale of safety technologies to mitigate harmful effects of cell phone radiation.