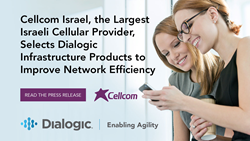 We selected the Dialogic Class 4 solution from among multiple incumbent vendors as they best met our long list of requirements, including advanced reporting and monitoring tools.
PARSIPPANY, N.J. (PRWEB) September 05, 2018
Dialogic, a cloud-optimized applications and infrastructure solutions provider for service providers, enterprises, and developers, announced today that Cellcom Israel, the largest Israeli cellular provider, has chosen the Dialogic® ControlSwitch™ solution and Dialogic® I-Gate® 4000 Media Gateway for use in its international voice services.
"We selected the Dialogic Class 4 solution from among multiple incumbent vendors as they best met our long list of requirements, including advanced reporting and monitoring tools," said Ronen Halali, Director of Network Engineering Department at Cellcom Israel. "Additionally, all supplied products integrate seamlessly in our voice network. The superior support we received during the decision-making process also contributed greatly to our choice of Dialogic."
"We are pleased that Cellcom Israel chose Dialogic Softswitch and gateway products," said Bill Crank, President & CEO of Dialogic. "Cellcom Israel provides a wide range of communications services to the wireline and wireless markets in Israel and needed infrastructure products that could match their requirements. These Dialogic products checked all the necessary boxes, and we are delighted to be working with Cellcom Israel as its business expands."
"Dialogic's excellent support and responsive development team were one of the key reasons why Dialogic solutions were chosen by Cellcom Israel," noted Eyal Arviv, Vice President of Regional Sales, South Europe and Israel at Dialogic. "Our responsiveness, combined with the advanced analytics and enhanced solution functionality, definitely gave Dialogic an edge over existing solutions."
To learn more about Dialogic's virtualized infrastructure products from our experts, see us at Mobile World Congress Americas 2018 in Los Angeles, California from September 12-14 in West Hall, Level 2, Room 515-F. For more on the event, or to book a meeting, visit: https://web.dialogic.com/mwc-americas-2018. Also visit the Dialogic website for more information on the ControlSwitch System and I-Gate 4000 Media Gateways.
About Dialogic
Dialogic is a leading cloud-optimized solutions provider for real-time communications media, applications, and infrastructure to service providers and developers around the globe. Based in Parsippany, NJ with offices worldwide, Dialogic helps 48 of the world's top 50 mobile operators, and nearly 3,000 application developers build and deploy on agile networks. Learn more about how Dialogic is enabling agility by following us on Twitter @Dialogic, and visiting http://www.dialogic.com and the Dialogic Blog for the latest industry news, trends and advice.
Dialogic, ControlSwitch, and I-Gate are either registered trademarks or trademarks of Dialogic Corporation or a subsidiary thereof ("Dialogic"). Other trademarks mentioned and/or marked herein belong to their respective owners.
About Cellcom Israel
Cellcom Israel Ltd., established in 1994, is the largest Israeli cellular provider; Cellcom Israel provides its approximately 2.822 million cellular subscribers (as at March 31, 2018) with a broad range of value added services including cellular telephony, roaming services for tourists in Israel and for its subscribers abroad and additional services in the areas of music, video, mobile office etc., based on Cellcom Israel's technologically advanced infrastructure. The Company operates an LTE 4 generation network and an HSPA 3.5 Generation network enabling advanced high speed broadband multimedia services, in addition to GSM/GPRS/EDGE networks. Cellcom Israel offers Israel's broadest and largest customer service infrastructure including telephone customer service centers, retail stores, and service and sale centers, distributed nationwide. Through its broad customer service network Cellcom Israel offers technical support, account information, direct to the door parcel delivery services, internet and fax services, dedicated centers for hearing impaired, etc. Cellcom Israel further provides OTT TV services, internet infrastructure and connectivity services and international calling services, as well as landline telephone communications services in Israel, in addition to data communications services. Cellcom Israel's shares are traded both on the New York Stock Exchange and the Tel Aviv Stock Exchange. For additional information please visit the Company's website http://investors.cellcom.co.il.