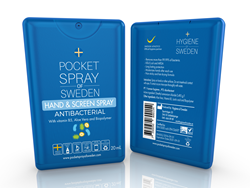 Health is an invaluable asset, that we should take care of when dealing with outbreaks like Coronavirus - Nicolas Andreasson
WASHINGTON (PRWEB) March 09, 2020
The respiratory disease Coronavirus, also known as COVID-19 caused great concern worldwide due to its outbreak. The World Health Organization declared the outbreak a "public health emergency of international concern," officials have declared it a global health emergency, countries have imposed travel restrictions, and international events have been cancelled.
As the breakout spreads, people are searching for ways to protect themselves against contracting the virus. While officials are trying to come up with effective solutions to prevent more people getting sick, the first advice for anyone worried about contracting coronavirus is to thoroughly wash hands. Even the World Health Organization (WHO) recommended as one of the measures is washing hands and wearing masks. At the same time, news report that there is hand sanitizer shortage in local stores, and as stores run out of hand sanitizer, prices go up as well. However, is the use of hand sanitizer that important in helping the breakout spread of Coronavirus?
The majority of hand sanitizers contain about 70% rubbing alcohol. It is proven that alcohol can cause hands to dry out and even bleed, which leaves skin prone to allowing germs to enter into the body. So, although this preventive strategy reduces the likelihood of transmitting both viral and bacterial borne diseases, one should be careful in choosing non-alcoholic based hand sanitizers.
A Swedish organization introduced an antibacterial formula to the American market that has no alcohol and comes with a convenient design not bigger than a credit card. Hygiene of Sweden uses an active ingredient and a non-alcoholic formula to fight against both non-enveloped and developed viruses like Coronavirus. In addition, because of its water-based formula, it can be safely used on cell phones, iPads, keyboards and other electronic devices.
US-based partner and global master distributor, Mr. Nicolas Andreasson has traveled throughout the entire country and abroad to present them to potential clients, and especially now during the outbreak. When asked about the antibacterial spray, Nicolas said: "Health is an invaluable asset, that we should take care of when dealing with outbreaks like Coronavirus. But you should also do it on a daily basis, anywhere, everywhere. Sometimes you can't just simply wash hands. We needed a safe and non-alcoholic based formula that can be carried around. I trust Hygiene of Sweden to use with my family, kids and friends and I wanted to help other parents and professionals like me be safe."
The company comes with a full range of personal hygiene products delivered worldwide. More info can be found at http://usa.cellements.com