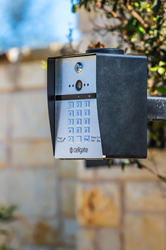 "We took our industry-leading Watchman EVO products.......and developed a product with full voice, keypad and photo capture capabilities that is priced for everyone. No one else can come close to matching the feature-set on the W410 at this price point." Noel Gouldin, President of Cellgate
CARROLLTON, Texas (PRWEB) October 22, 2019
CellGate has announced the launch of their new Watchman W410 Advanced Telephone Entry System. The W410 is a cellular-based access control product with full voice, keypad and photo capture capabilities. Like all of CellGate's products, the W410 can work on either Verizon or AT&T's LTE cellular networks, and thus the system can be installed virtually anywhere since land lines are not required. The Watchman W410 allows users to control gate access from wherever they are, by utilizing a smart phone app or from CellGate's proprietary TrueCloud web portal.
CellGate's President, Noel Gouldin, is enthusiastic about the launch of the W410 because he believes its introduction will be a tipping point for his company and for the entire access control industry. "CellGate has long been known for providing cellular access control products with cutting-edge capabilities that competitors simply can't duplicate," said Gouldin. "With the new Watchman W410, we have done what many said we couldn't do. We took our industry-leading Watchman EVO products—with their superior core technology and our integrated app and web-portal system---and developed a product with full voice, keypad and photo capture capabilities that is priced for everyone. No one else can come close to matching the feature-set on the W410 at this price point."
Gouldin says the Watchman W410 has a number of product features exclusive to it or to CellGate. These features include:

The ability to call up to 9 telephone numbers in 3 tiers.
Voice Mail Intelligence. The W410 system ignores calls that reach voice mail and continues to call remaining numbers in the call tree until it reaches a party "live," reducing stranded visitors.
The ability to integrate an external camera to capture secondary views of visitors or license plates.
Prop-open notifications if a gate has been left open for more than 3 minutes.
The Watchman W410 also comes with: a native 26-bit Wiegand port for properties that utilize fobs or card readers; up to 1,500 local access codes and 64,000 non-local codes; an integrated camera that can take photos of access attempts or photos on-demand; and new, low cellular rate plans.
The W410 is ideal for single family homes or businesses that do not require a directory listing. A WXP Wiegand Expansion Panel is also available as an optional accessory for property owners who wish to control other access points at their location, like pedestrian gates or internal doors, through the same W410 system.
Gouldin says the early feedback he has received from industry insiders about the Watchman W410 is exciting. "Our distributor and dealer partners have been so supportive of this product launch and they simply can't wait to get the W410 to their customers," said Gouldin. "Many of our other products have been geared towards the higher end of the market, but the W410 was designed to be affordable for the masses. The Watchman W410 ticks so many boxes for a multitude of customers out there, and we expect it to be a game-changer."
Learn more about CellGate and the Watchman W410 at http://www.cell-gate.com.
CellGate has been providing access control and security monitoring products utilizing cellular network technology since 2006. They are the only technology company with a complete suite of cellular-based security products—encompassing streaming video, smart keypad entry, voice and camera solutions. With their easy-to-use smart phone applications and proprietary TrueCloud web-based portal built on Microsoft Azure's cloud service, CellGate offers flexibility found in no other access control or monitoring solution.