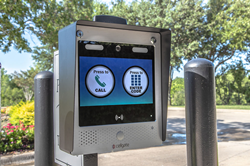 "We have led the cellular access control industry since our 2016 launch of the first Watchman product, and it is incredibly gratifying to add the super sleek new WXL to the family of Watchman products."Noel Gouldin, President of CellGate
CARROLLTON, Texas (PRWEB) August 13, 2020
This week CellGate is shipping their first orders of the much-anticipated Watchman WXL multi-tenant access control system. CellGate was the first cellular gate access control company to offer live-streaming video capability when they launched their first Watchman single-family product in 2016. Four years later, the new Watchman WXL is now the 3rd multi-tenant product available in CellGate's Watchman line of products, and it is expected to resonate with multi-tenant communities that want the most modern technology available today.
CellGate's Watchman WXL multi-tenant gate access control system comes with an HD camera capable of both taking photos of all access transactions and of providing live-streaming video, a sleek 11" color touch-screen and a built-in HID card reader. The WXL can accommodate up to 3,000 directory listings and 30,000 local codes; it integrates with up to 3 external cameras; and it can be utilized on Verizon or AT&T's cellular LTE networks, or via a hard-wired ethernet connection.
The Watchman WXL measures 14.75" H x 12.75" W x 3.75" D, is designed to fit in existing legacy system locations, and is available in both surface mount and pedestal mount versions. Amongst its many exclusive product features include: Voice Mail Intelligence (VMI), where the system ignores voice mail and continues the call group until it reaches someone that can grant access, and prop open notifications that alert property managers to gates left open more than three minutes, amongst others.
Like all of CellGate's products, the Watchman WXL hardware also comes with a smart phone app so that tenants can grant gate access from wherever they are, and the TrueCloud™ web portal, which property managers utilize for user setup and administration.
CellGate provided an early preview of the Watchman WXL at the American Fence Association's national industry trade show in early February 2020, called FenceTech. Since then, final technical updates were made to the production version, while fence and gate distributors and dealers simultaneously clamored to receive their first Watchman WXL deliveries.
"We really created a lot of buzz when we previewed the WXL at FenceTech," said Noul Gouldin, President of CellGate. "We have led the cellular access control industry since our 2016 launch of the first Watchman product, and it is incredibly gratifying to add the super sleek new WXL to the family of Watchman products. CellGate truly has a complete and well-rounded cellular-access control product line, with a product for every application and budget."
To learn more about CellGate's products, features and functionality, visit their website, http://www.cell-gate.com.
CellGate has been providing access control and security monitoring products utilizing cellular network technology since 2006. They are the only technology company with a complete suite of cellular-based security products—encompassing streaming video, smart keypad entry, voice and camera solutions. With their easy-to-use smart phone applications and proprietary TrueCloud web-based portal built on Microsoft Azure's cloud service, CellGate offers flexibility found in no other access control or monitoring solution.