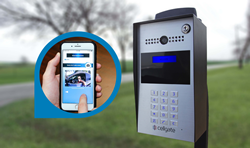 "No other manufacturer in the industry currently has a cellular gate access control system that knows to ignore calls that go to voice mail, so it really is an important differentiator for us because no one wants visitors to get stranded at a gate." Noel Gouldin, President of CellGate
CARROLLTON, Texas (PRWEB) July 29, 2020
Beginning this week, cellular access control company, CellGate, is rolling out important functionality upgrades to their current Watchman product line.
The first upgrade is the addition of Voice Mail Intelligence (VMI) to the entire Watchman family of products. With VMI, when a visitor hits the "Call" button on a Watchman system, and it begins to dial the designated parties on the call group that are allowed to grant access--if any of those calls goes to voice mail, the system ignores that call and continues calling the remaining numbers on the list of people that can grant access. This means fewer stranded visitors because each visitor is more likely to reach someone on the call group to grant them access.
CellGate initially launched Voice Mail Intelligence in the Fall of 2019 when they introduced their new Watchman W410 advanced telephone entry system, and at the time that was the only product that came with VMI. Now, all in-service and future Watchman products sold will automatically have the Voice Mail Intelligent feature.
The second upgrade CellGate has announced this week is their move to a single mobile "app," which is called the "CellGate app." Currently the Company has 2 apps in service: the CellGate app, and the Watchman EVO app—and they each were utilized for different CellGate company products or functionality. Moving forward, all CellGate products can be controlled from the single CellGate app, making it very simple for customers to determine which CellGate company app to utilize.
In addition to this streamlining the customer's mobile experience, CellGate is also launching new functionality on the single CellGate app. Beginning this week, single family Watchman product customers utilizing the new CellGate app will be able to create user access codes directly from the app if they wish; previously all user access codes could only be set up via CellGate's TrueCloud web portal. This feature makes it even easier for CellGate single family product customers to manage their gate access control system while on-the-go.
CellGate President, Noel Gouldin, says his product development team has been hard at work preparing for these functionality changes, and is excited for them to finally be introduced. "We are proud to roll out Voice Mail Intelligence into the entire Watchman product line, because it will be so beneficial to our customer's user experience. No other manufacturer in the industry currently has a cellular gate access control system that knows to ignore calls that go to voice mail, so it really is an important differentiator for us because no one wants visitors to get stranded at a gate," says Gouldin. "We are also thrilled to announce the move to a single company app, as it will allow us to roll out new features and functionality more quickly and it makes things easier for the end user as well," said Gouldin.
To learn more about CellGate's products, features and functionality, visit their website, http://www.cell-gate.com.
CellGate has been providing access control and security monitoring products utilizing cellular network technology since 2006. They are the only technology company with a complete suite of cellular-based security products—encompassing streaming video, smart keypad entry, voice and camera solutions. With their easy-to-use smart phone applications and proprietary TrueCloud web-based portal built on Microsoft Azure's cloud service, CellGate offers flexibility found in no other access control or monitoring solution.