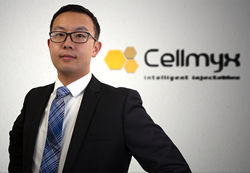 CARLSBAD, Calif. (PRWEB) November 24, 2020
Cellmyx is very excited to announce the appointment of Wangzhong (Wang) Sheng, Ph.D. as our new Chief Scientific Officer. Wang completed his degree at the University of California, San Diego, where he researched and developed innovative methods to improve upon conventional liposuction techniques for his dissertation.
Prior to joining Cellmyx, Wang was a Scientist at Bristol Myers Squibb, where he worked on developing innovative drugs for the treatment of cancer. Wang brings a wealth of knowledge in the biomedical, pharmaceutical, regenerative medicine, and cosmetic areas that will provide the infrastructure needed to continue advancing this company forward in the medical industry.
At Cellmyx, Wang will oversee the research and development of novel innovative products to add to our suite of proprietary medical technology products for the harvesting, processing, and deployment of autologous soft tissue, with focus on expanding the business into the regenerative medicine space. In addition to offering his scientific and business leadership, Wang will also serve as the Director of Clinical Operations, where he will leverage his prior experience to obtain regulatory clearance, both domestically and internationally, for some of our newest products.
ABOUT CELLMYX
Cellmyx designs, patents, and manufactures proprietary medical technology products for the harvesting, processing, and deployment of autologous soft tissue. "Cellmyx is where regenerative and aesthetic medical technologies meet. The science and engineering team at Cellmyx is committed to advancing the art of both aesthetic and regenerative medical applications. We see global market signals indicating that throughout the next decade, the growth in patient demand for natural regenerative medical solutions will outpace the desire for previous synthetic-only options. Our R&D pipeline is novel and uniquely positioned to meet this growing demand in the regenerative medicine space", states Gregory Miles, CEO.
The company has developed patented technologies and proprietary products such as the AcquiCell™, Lipo- Loop®, and a full line of FDA compliant fat collection and transfer devices. Recently, Cellmyx has been having success with its intelliFat™ SVT kit for orthopedic and pain management. This transformative kit enables physicians to transfer the patient's own adipose tissue quickly and efficiently, without a centrifuge, in an office-based or surgical setting, under local anesthesia. This eliminates the need for general anesthesia for many types of procedures, thereby reducing patient risk. The intelliFat™ SVT single use disposable kit provides physicians a method to harvest, process, and transfer in a closed system to achieve sterile and viable adipose tissue of varying cluster sizes, making low volume fat transfers safe, simple, and cost effective. To find out more about the intelliFat™ SVT kit, please visit intellifat.com.
In the near future, Cellmyx will be releasing a new sterile single-use SuperG® Micro cannula, designed for both manual extraction and power-assisted liposuction, to collect 500-micron clusters of adipose tissue. Stayed tuned to find out more!
For more information on our suite of products, please visit cellmyx.com or call (949) 215-8560.