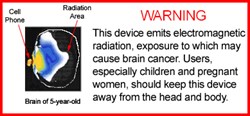 This device emits electromagnetic radiation, exposure to which may cause brain cancer. Users, especially children and pregnant women, should keep this device away from the head and body
San Francisco, CA (PRWEB) February 20, 2014
To raise awareness of cell phone radiation, D-Sen. Josh Green of Kona, Ka'u introduced Senate Bill SB 2571, a measure calling for cell phones sold in Hawaii to come with a prominent health warning -- similar to what smokers see on the sides of cigarette packages to warn them of danger.
Sen. Green not only wants people to think about that electromagnetic radiation but also to change their cell phone habits because of it.
Green, who chairs the Health Committee, said he introduced the bill because he thinks consumers need to be directed to radiation warnings already listed within the device.
The original version of Senate Bill SB 2571 would have required the label to read, "This device emits electromagnetic radiation, exposure to which may cause brain cancer. Users, especially children and pregnant women, should keep this device away from the head and body."
Green said he took the language from the warning within his iPhone. He said he is open to the size of the label being reduced. In it's current form, Senate Bill SB 2571 would require cellphones sold in Hawaii to contain a warning label covering nearly a third of the back of the device.
The city of San Francisco adopted a similar cellphone "right-to-know" law several years ago. But the city last year abandoned the law in a legal settlement because of opposition from the wireless industry being against it.
Green said the lawsuit shouldn't deter the state from seeking similar measures.
The bill doesn't reference any specific scientific studies that show a risk from cellphone use, but does say consumers should "be made aware of the potential health dangers that have been linked to the electromagnetic radiation emitted by cellular telephones.
Senate Bill SB 2571 has already passed out of the Senate Health Committee and could be heard next by the Consumer Protection Committee in the next 30 days.
John Coates Founded RF Safe in 1998 long before most were aware of any risk from non-ionizing radiation. RF Safe specializes is reducing exposure to cell phone radiation by offering several innovative smartphone accessories to make using a cell phone safer.
Coates said, "The perfect combination for cell phone radiation safety is using an RF Safe Air-tube Headset and Flip Case Radiation Shield. The air tube headset lets users talk privately or enjoy listening to music without exposing their brain to microwave radiation. Equally important is the flip case that provides a shield between the user and cell phone whenever the front of the phone is facing them with cover closed- even when talking normally with the phone to their ear."
RF Safe claims using an air-tube headset is the safest way to use a cell phone when speaker phone or texting isn't an option.
"Ordinary headsets use a wire to deliver sound to the earpiece and may also deliver electromagnetic radiation directly to your head into your ear," says Coates.
RF Safe's Air-tube headset technology utilizes a state-of-the-art enhanced sound chamber which delivers crystal clear acoustic live sound through an air-filled wireless tube (similar to a doctor's stethoscope). RF Safe is debunking the myth that safer isn't as much fun. By replacing the wire found on ordinary headsets with patented acoustic air tube technology, the RF Safe headset reduces RF exposure to the head and increases the pleasure of listening to one's favorite music.
The RF Safe headset allows cell phone users to experience live acoustic sound without any electrical components or radiation in their ears.
To learn more about the hazards of RF radiation and the best cell phone accessories to reduce radiation exposure, visit http://www.rfsafe.com.