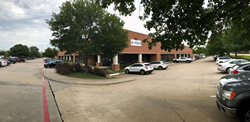 "These new facilities feel representative to me of how far we have come as a company."Noel Gouldin, President of CellGate
CARROLLTON, Texas (PRWEB) August 18, 2021
Cellular access control industry leader, CellGate, has kicked their summer off with a bang by moving into their new company facility, located at 3220 Keller Springs Road, Suite 106, Carrollton, TX 75006.
As of July 2021, they are now enjoying 18,000 square feet of space, dedicated to the company's sales, operations, technical support, customer support, manufacturing and warehousing activities. CellGate has experienced rapid growth in the last several years, and had outgrown their previous space. With Company headcount now at 54, they simply needed more room to accommodate their many new team members, in addition to having more space in the future for additional employees as they grow.
CellGate President, Noel Gouldin, was especially excited about the move, because it represented a visible milestone in the company's progress and evolution. "This transition to our new facilities makes me reflect on our humble roots from over a decade ago, when we just had a few rooms in our first office and a handful of employees," said Gouldin. "It is incredibly gratifying to see how far we have come since then. I can't help but be optimistic about the path for continued growth we are currently laying, because we have so many new things just around the corner as well. These new facilities feel representative to me of how far we have come as a company."
###
CellGate has been providing access control and security monitoring products utilizing cellular network technology since 2006. They are the only technology company with a complete suite of cellular-based security products—encompassing integrated streaming video, access control and camera solutions. With their easy-to-use smart phone applications and proprietary web-based TrueCloud™ portal built on Microsoft Azure's cloud service, CellGate offers flexibility found in no other access control or monitoring solution. Visit http://www.cell-gate.com to learn more.