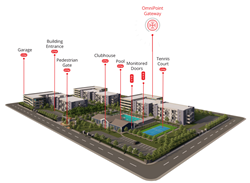 "I believe OmniPoint will have the biggest and most immediate market impact of anything we have ever introduced."Noel Gouldin, Founder and CEO of CellGate
CARROLLTON, Texas (PRWEB) November 15, 2022
This month, Carrollton, Texas-based CellGate is introducing an innovative new wireless multi-point access control solution called OmniPoint. OmniPoint is vastly different than most currently installed access control systems around the country, in that it does not require data wires or control panels. This means there is less hardware to purchase, install and connect via data wires on a property, lowering both the overall system hardware and installation cost when compared to a wired access control solution.
OmniPoint's system design is very different than traditional wired systems. Because it is a wireless multi-point access control system, it instead utilizes a hub and spoke methodology.
An OmniPoint Gateway is the communications hub that transmits data to CellGate's TrueCloud portal via Ethernet, or on AT&T or Verizon's cellular LTE networks. The Gateway also communicates locally with up to 100 entry points via LoRa technology. No long distance data wires are required – the only wiring is for power, and local wires to the card reader and lock.
With an installed OmniPoint solution, EPMs (Entry Point Modules) are installed at entry points that require access control; while OPSs (OmniPoint Sensors) can be utilized for entry points that don't require access control, but instead just need status monitoring. Notifications can be sent in real time via text or email to property managers if an entry point has been accessed, a door has been propped open or if a door is unlocked, amongst other scenarios.
OmniPoint's unique system design, capabilities and use of LoRa technology means it is an ideal solution for schools, warehouses, shipping yards, multi-tenant communities, loading docks, regional airports, parking lots, and many other similar properties that have factors that make a wired access control solution cost prohibitive or simply impossible to install.
While OmniPoint can work almost anywhere, it can be the most cost-effective and reliable choice when:
 A property has entry points spread out up to a mile
 Line of site is not always available
 Fenced outdoor areas need to be secured
 There are a minimum of 5 to 100 entrances
CellGate Founder & CEO, Noel Gouldin, conceived the idea for OmniPoint, and then developed it with the CellGate engineering team over the last couple of years. Gouldin believes OmniPoint could be the most revolutionary, groundbreaking product that CellGate has released in its 15-plus year company history.
"I am proud of the many innovative products CellGate has released throughout its history, from the GC1010 which was the first cellular access control device on the market, to our Watchman line of video telephone entry products that are still the only cellular products that can provide streaming video of visitors at the gate," said Gouldin. "But I believe OmniPoint will have the biggest and most immediate market impact of anything we have ever introduced. It is truly unique in a couple of key ways: 1) in how the various technologies necessary for it to work were blended seamlessly into a single solution; and 2) the fact it can be controlled by the same TrueCloud web portal we developed a decade ago, that administrates all of our products. OmniPoint is truly a reliable and cost-effective solution that can keep properties – and people – safe."
CellGate is launching OmniPoint this month with a series of webinars for its dealers and distributors, and at the ISC East show in New York from November 15-17, 2022 at the Javits Center.
To learn more about OmniPoint, visit the OmniPoint solution page at http://www.cell-gate.com/omnipoint.
CellGate has been providing access control and security monitoring products utilizing cellular and internet network technology since 2006. They are the only technology company with a complete suite of cellular-based security products—encompassing integrated streaming video, access control and camera solutions. With their Watchman and OmniPoint product lines, proprietary web-based TrueCloud™ portal built on Microsoft Azure's cloud service, and the easy-to-use CellGate app, CellGate offers flexibility found in no other access control or monitoring solution. Visit http://www.cell-gate.com to learn more.