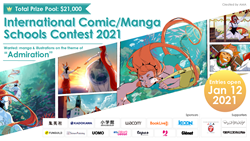 TOTAL US$17,700 CASH PRIZE
TOKYO (PRWEB) November 13, 2020
Shueisha, KADOKAWA, SHOGAKUKAN, Wacom, BookLive, and KI-OON will participate as the contest's six special sponsors, and seven other companies from Japan and abroad will participate as sponsors. Award-winning entries will have a chance to be published by each company. There will be chances for a wide range of comic entries to win, with dedicated categories for webtoons, manga, and bande dessinée. There is also a script category where participants create a comic based on an assigned script.
International Comic/Manga School Contest 2021
https://www.clipstudio.net/promotion/comiccontest/en/
Starting in 2018 as a contest for European artists, the International Comic/Manga School Contest is now in its fourth year. Last year, the contest garnered over 750 strong entries from 825 participating schools in 69 countries and regions. The contest accepts entries regardless of language, so expects a wide variety of entries from many countries and regions. The contest, targeted at current students, is a rare opportunity for future professional comic artists to make contact early in their careers with media organizations around the world.
Charlie Adlard, known as the artist of "The Walking Dead" comic series, and popular webtoon artist Simone Ferriero, along with five other judges will select works that appeal to a worldwide audience as the winners. Professional creators and sponsors will give detailed critiques to help not only the winners, but also readers of the entries and their critiques, to improve their skills. The critiques from judges and sponsors in last year's contest were very well received by the winners, with winners commenting that "the judges' advice pointed out my shortcomings, but also gave me great confidence and courage" and that "the detailed feedback was very helpful in getting me to better understand my strengths and weaknesses." This time, an online award ceremony is also planned, where the winners will receive words of encouragement and critiques directly from the judges.
The winning entries in the comic categories will be translated into English, French, Spanish, German, Japanese, Traditional Chinese, and Korean for readers all over the world to enjoy.
Celsys commits to supporting the activities of creators in the realm of digital art by providing opportunities, tools and services to showcase their work.
Overview of the International Comic/Manga School Contest 2021
Submission Categories          Entries will be accepted for the following six categories.
Comic Category (Color)
An original color comic for all ages (8–16 pages, including cover). Aimed at American-style comic entries.
Manga Category (Black-and-White/Color)
An original black-and-white or color manga for all ages (8–16 pages, including cover). Aimed at Japanese-style manga entries.
Bande Dessinée Category (Color)
An original bande dessinée for all ages (8–16 pages, including cover).
Webtoon Category (Color)
An original webtoon for all ages (sized 800 x 40,000–72,000 pixels or a height 50–90x that of the width (max. 800 pixels width)).
Storyboard Category
A 4–8 page monochrome manga, comic or webtoon drawn according to the supplied storyboard text.
Illustration Category
An original color illustration for all ages - no size requirements.
Theme: Admiration (All Categories)
Schedule School Registration: Nov 10, 2020 – April 20, 2021, 9:00 (GMT)
Submission Period: Jan 12 – April 29, 2021,9:00 (GMT)
Result announcement: Early July 2021
How to Enter Submissions accepted from January 12, 2020.
A teacher must register their school or program to receive a school ID for submitting contest entries. Students will need to enter this school ID when submitting their artwork.
Please see here for more information.
https://www.clipstudio.net/promotion/comiccontest/en/
Prizes          Comic / Manga / Bande Dessinée / Webtoon Categories
Grand Prize (1 Winner)
US$3,300 cash prize
Wacom Cintiq 16, a 15.6" Full HD Creative Pen Display
Three years of Clip Studio Paint EX for a single computer, tablet or smartphone
Category Award (1 winner per category)
US$1,700 cash prize
Wacom One, a 13.3" pen display
Three years of Clip Studio Paint EX for a single-device
Runner-up (3–5 winners)
Three years of Clip Studio Paint EX for a single-device
Storyboard Category
Grand Prize (1 winner)
US$2,200 cash prize
Wacom One, a 13.3" pen display
Three years of Clip Studio Paint EX for a single-device
Runner-up (3–5 winners)
Three years of Clip Studio Paint EX for a single-device
Illustration Category
Grand Prize (1 winner)
US$550 cash prize
Wacom One, a 13.3" pen display
Three years of Clip Studio Paint PRO for a single device
Runner-up (3–5 winners)
Three years of Clip Studio Paint PRO for a single device
Guest Judge
Charlie Adlard
Instagram: https://www.instagram.com/charlie_adlard/
Twitter: https://twitter.com/CharlieAdlard
British comic artist with over 25 years of experience in the industry Named the UK Comics Laureate from 2017 to 2019. Known for "The X-Files" and "The Walking Dead".
Simone Ferriero (Artist Name: SimzArt)
Instagram: https://www.instagram.com/simz.art
Twitch: https://www.twitch.tv/simzart/
Comic Artist and Illustrator active in Italy Currently working on various projects including the "Falling in the Blue" webcomic.
Additionally, one judge each from Shueisha, KADOKAWA, SHOGAKUKAN, BookLive, and KI-OON will participate.
Special Sponsors
Shueisha
https://www.shueisha.co.jp/english/
Shueisha is a Japanese publisher that publishes manga, fashion magazines, and literary books.
They have published comic magazines such as Weekly Shonen Jump, Weekly Young Jump, Ribon, Margaret, and Bessatsu Margaret. They have also published internationally renowned manga such as One Piece.
KADOKAWA
https://comic-walker.com/
KADOKAWA is an all-rounder entertainment company that is involved in a wide range of businesses, including book publishing, movies and animation. Comic Walker is a free comic site that offers many popular KADOKAWA manga in one place. From the latest media mixes to popular sci-fi comics, more than 3,000 works are posted here free of charge.
SHOGAKUKAN
https://www.shogakukan.co.jp/
SHOGAKUKAN is an all-around publisher of comic, children's, information, and women's magazines as well as literary and picture books. The company has 18 comic magazines covering a wide readership from young boys and girls to adults, including "Corocoro Comic," "Weekly Shōnen Sunday," "Sho-Comi" and "Big Comic." They also run the "Manga One" comic app, which boasts over 20 million downloads.
BookLive
https://booklive.jp/
Since its establishment in 2011, BookLive! has been one of the largest comprehensive e-book stores in Japan, with a selection of around one million books, including manga, novels, novellas and magazines. From coupon gacha and other unique campaigns to the highly-rated bookshelf function and a number of payment options, we strive to provide readers with an easy-to-use platform. There are over 10,000 titles available to read for free without even needing to register for an account! Give it a go with your favorite manga and see how easy it is to use. We also produce original e-books, aiming to create manga that will tickle the hearts of the "smartphone manga generation".
Wacom
http://www.wacom.com/
Pioneer of creative pen tablets and displays which are being used to create some of the most exciting digital art, films, special effects, fashion and designs around the world.
KI-OON
http://www.ki-oon.com/
Ki-oon Publishing is a French publishing house founded in 2003 by two people who love Japan. They are currently the fourth largest publisher in France publishing "My Hero Academia," "Jujutsu Kaisen," "A Bride's Story," "Prophecy," "BEASTARS," and many more. In addition to purchasing licenses, they also produce and publish original works in a variety of genres. These works are initially published in France and then licensed for worldwide distribution (including Japan).
Sponsors
FUNGUILD
http://funguild.jp/
A comic book publisher with a mission to "bring FUN to life through the power of stories." We plan and edit original comics, to meet the needs of our readers made up of girls, women, and young men, and distribute them to various electronic comic sites in Japan and abroad.
Amutus Corporation
https://www.amutus.co.jp/en/
Mecha Comic, one of Japan's largest e-book sites, plans and produces with its production partners the original brand "Mecha Comic Original," which is distributed on e-book sites in Japan and abroad. Note: Books are sold under the Amucomi brand in bookstores other than Mecha-Comic.
Solmare Publishing (NTT Solmare Corp.)
https://www.nttsolmare.com/e/
Operator of Japan's largest e-book store, Comic c'moa. The store's specialist e-comic editorial team, the Solmare Editorial Department, is responsible for the store. The Department fully supports emergeing authors and the creation of hits, including the production of many media works.
Tapas Media
https://tapas.io/
Charlie has been a "veteran" of the comic industry for over 25 years. He's spent the majority of his time since 2003 working on The Walking Dead, which finished in 2019, and has received many industry awards for his work on the series culminating in winning the Sergio Aragonés International Award for Excellence in Comic Art in 2019. In his time as a cartoonist he has worked on many other projects as far reaching as Mars Attacks, the X-Files, Judge Dredd, Savage, Batman, X-Men, Superman etc and creator-owned projects closer to his heart like Astronauts In Trouble, Breath Of The Wendigo, Codeflesh, Rock Bottom, Vampire State Building, and White Death.
UOMO
https://www.webuomo.jp/
A men's fashion magazine published by Shueisha that targets men in their 40's with a keen interest in everything from fashion to culture.
J-POP Manga
https://www.j-pop.it/
J-POP, Edizioni BD's manga imprint, is one of Italy's leading manga publishers. Since its launch in 2006, J-POP Manga has offered a diverse lineup of more than 3,000 titles ranging from popular shonen manga (Promised Neverland, Tokyo Ghoul) to masterpiece collections by authors such as Go Nagai, Osamu Tezuka, Riyoko Ikeda, Moto Hagio, Taiyo Matsumoto, Junji Ito and Kazuo Kamimura.
Glénat
https://www.glenat.com/
Established in 1969 by Jacques Glénat, Glénat is a French publisher specializing in bande dessinée, manga, American comics and books on leisure topics (sea, mountains, gastronomy, cultural heritage, children and youth). A pioneer of Japanese manga publishing in France, Glénat remains the undisputed market leader in France today.  
Sponsors
HAKUSENSHA
https://www.hakusensha.co.jp/en/
HAKUSENSHA is the publisher of "Young Animal," "Young Animal ZERO," "Le Paradis." They also publish Shojo magazines such as "Hana to Yume," "LaLa," "MELODY," "The Hana to Yume," and "LaLaDX." They also produce online magazines for women's manga, "Love Silky," "Love Jossie," "Hana Yume Ai," young men's manga, "Harem," and the and the "Manga Park" app.
SILENT MANGA AUDITION®
http://www.manga-audition.com/
One of the biggest and most successful manga competitions in the world. Organized by Coamix, Inc., founded by some of Japan's most iconic manga creators, the competition aims to find, nurture and publish the next generation of international manga creators.
comico
https://www.comico.io/
"comico" is a manga/novel app that features a large collection of original vertically-scrolling, full-color manga. In addition to the overseas versions in Taiwan, South Korea, Thailand, and Vietnam, comico has recently begun offering its service in English-speaking countries such as the United States, Canada, and the United Kingdom. The app has been downloaded more than 35 million times worldwide.
CoAket
https://coaket.com/
Inspired by similar comics markets in Japan, CoAket is the first of its kind in Germany and is getting attention from local artists. Held twice a year in Hamburg, CoAket focuses on artist displays and publisher's booths.
Tokyo name tank
https://nametank.jp/
Our goal is to support everyone in creating their own manga while having fun drawing it. We have produced many award-winning and debut artists. In addition to storyboard lessons that cover how to structure a complete a 32-page storyboard, we also hold individual consultations and storyboard exchange sessions to answer concerns about the creation of comics.
Cork, Inc.
https://en.corkagency.com/
Cork is a creative agency with a mission to "change the world, one person at a time, through the power of storytelling." The company is striving to redefine "editing" for a new era by working in collaboration with creators not only on an editorial level to design universal stories, but also on a community level to create enthusiasm while connecting directly with fans.
Supporters
The Japan Cartoonists Association
https://www.nihonmangakakyokai.or.jp/
The Japan Manga Association was established in December 1964 as the only nationwide organization of Japan's manga artist at that time. It's engaged in a variety of projects, such as research on comics, efforts in popularizing comics and comics culture, and comics cultural exchange with other countries. The group became a Public Interest Incorporated Association in 2014.
Manga Japan
https://www.manga-japan.net/
Manga Japan is an organization that aims to promote the development of manga culture and artists, contribute to society through the manga industry, promote international exchange and improve production environments for manga authors and others involved in the industry.
Digital Manga Association
http://www.dg-manga.com/
The Digital Manga Association is an organization of volunteers established to explore creative technologies for the creation of digital manga and comics and research copyright issues caused by digitization.
Operational Support
Graphixly LLC
https://graphixly.com
Toutlemonde Production Co., Ltd.
http://toutlemondeprod.com/
Organizer
CELSYS,Inc.
https://www.clipstudio.net/en/
CELSYS,Inc.
Celsys will continue supporting creators to create artistic content with digital technology.
We provide solutions for content creation, distribution, and browsing, including support of creative activities through our illustration, manga and animation production software "Clip Studio Paint" and web service "Clip Studio", as well as our e-book solution, "Clip Studio Reader".
Corporate site: https://www.celsys.co.jp/en/
Clip Studio Paint site: http://www.clipstudio.net/en/
Instagram: https://www.instagram.com/clipstudioofficial/
Twitter: https://twitter.com/clipstudiopaint
Facebook: https://www.facebook.com/celsys.clipstudiopaint/
Contact
For media
Pacific Marks Shinjuku, 4-15-7 Nishi-Shinjuku, Shinjuku-ku, Tokyo Japan 160-0023
e-mail: press@artspark.co.jp
For Companies
https://www.celsys.co.jp/en/clipsolution/